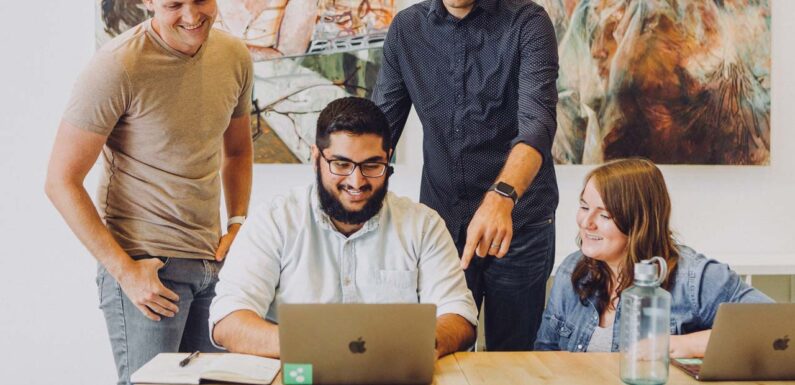 Technology has revolutionized almost every field and industry. Why should the fintech industry stay behind? Customers can now buy financial products, invest, trade, deposit, etc., everything on a digital platform.
But how do you start offering services digitally? There's an entire guide to understanding fintech app development if you are looking to set up web apps for insurance, mobile banking, equity, loan app, financial education, stock trading, etc. This industry is rapidly growing and to sustain itself in the market, you will have to face numerous challenges.
Transformation to digital can bring challenges as it involves software solutions and that comes along with the question of security. With the fintech industry being competitive, it is crucial to understand the challenges and get solutions to overcome them.
Let us find out what the possible challenges faced by the fintech industry while product development.
Top Challenges Faced by Fintech Product Development Process
The companies without any fintech services are not sure of the services or they do not have adequate knowledge or help from any resources regarding any fintech project or product. There are a few pain points that companies adopt during the process of fintech application development.
Let's check a few of them below.
1. Fintech Regulatory Compliance
Fintech's foremost challenge is to handle and manage the data of the users effectively. How will the banks, and other financial regulators manage the piles of data? Every day there are some rules and regulations probed by the government and the users and the fintech industries have to obey them.
In certain cases, only documents are gathered and there's no end to it. Moreover, if the company is not aware of these regulations imposed by the government they may face issues. For legal compliance checks of all the users, it is better to develop an online application. Hire the best fintech app development company that has experience in developing similar apps and can ensure that your documents and data are secured under one platform.
2. Security Issues
Data security is the biggest concern when it comes to users handling fintech applications for their daily transactions or online payments, or trading in general. Traditional banks had guards and lockers to secure anything, but keeping things virtual is not the same. Vulnerabilities can impact a lot of users when it comes to their personal data fraud.
What can be the potential solution to avoid such issues? Things get harder and a powerful and robust app that also provides security to the data can only be the solution to help you secure your fintech needs. And to get you real-time encrypted solutions, hire one of the top fintech app development companies to develop an app for your business.
3. AI Integration
As we know, artificial intelligence has made an impact on each organization today. It has helped large companies to collect personal information about users, financial behaviour, and in-app activity. This data is very important to fintech industries for credit ratings and other banking services.
If you are in a fintech industry and think that it is too late to integrate the technologies you are mistaken. Implementing these will reshape the business and retain customers. For AI and big data to combine, you need to get the AI model right to teach through ML.
4. Lack of Tech Expertise
There are multiple companies that are facing issues due to the use of outdated software or absolutely no knowledge of new updates. When it comes to using a mobile app for any industry, specifically when it comes to financial services or fintech products, having an updated application is more important. Of course, every user would want to use a seamless app but an old one is never a good choice.
Try to find out or analyze the new trends and features that other companies have in their mobile apps and integrate the same to retain the users. A lack of expertise can give a pullback to the business but with new features and technologies, you can bring back amazing experiences for your customers. Features like QR codes, automatic scanning for credit card numbers, and two-factor authentication along with fingerprint scans can help increase the number of users.
5. Blockchain Integration
There are still companies that think blockchain has not worked efficiently the way it was meant to be and a few think that blockchain is the only future of data exchange.
Data exchange is the crux of any fintech service as the users enrol for finances and exchange multiple documents and data for investment, payments, trading, funds, etc. With blockchain software, one can track all the data of where the money is going and coming from. Developing and integrating a blockchain system is crucial, however, a blockchain integration developer is needed to hire for having no issues and complete security.
6. User Experience
What does a user need? An easy-to-use application to manage all their finances and expenses without any threat to the security of their personal information. Looking for new software and tech solutions can make their daily life easy.
If you are planning to develop an app for your finance business, it is important to integrate all the latest technologies and features for the users to attract and for the old users to retain. Saying goodbye to the old traditional site and adapting to the new digital platform is hard but it is feasible to the users who like to use the internet for everything they need. Keep the application navigation simple and easy for them to use and checkout hassle-free.
7. Designing Cloud Architecture
If you are looking or want to get the next-gen fintech solution, designing a cloud-based app is the key to success. SaaS-based models from the cloud platforms help in reducing the cost.
It also helps in data management and maintenance issues. Integrating the cloud architecture offers third-party IT service providers to rely on apps and use private cloud data for storing the data. Each location has its own cloud designed to manage the data and maintain it efficiently.
Conclusion
With all the above challenges in the fintech industry, there are ongoing government policies that will never stop. To keep them in mind and follow the guidelines, balancing with technologies is a crucial task.
If you are a startup it might not be easy to adapt to the technologies and develop an application leaving the traditional systems behind. Although the impact of using fintech mobile apps is increasing every day and people feel it is more convenient to use banking apps instead of standing in queues even if it is only to withdraw or transfer some amount to another account.
If you are also thinking of developing an app for your fintech business, you can reach out to the best fintech app development company. They can help you with the best solutions that fit your business needs and also the user's needs.