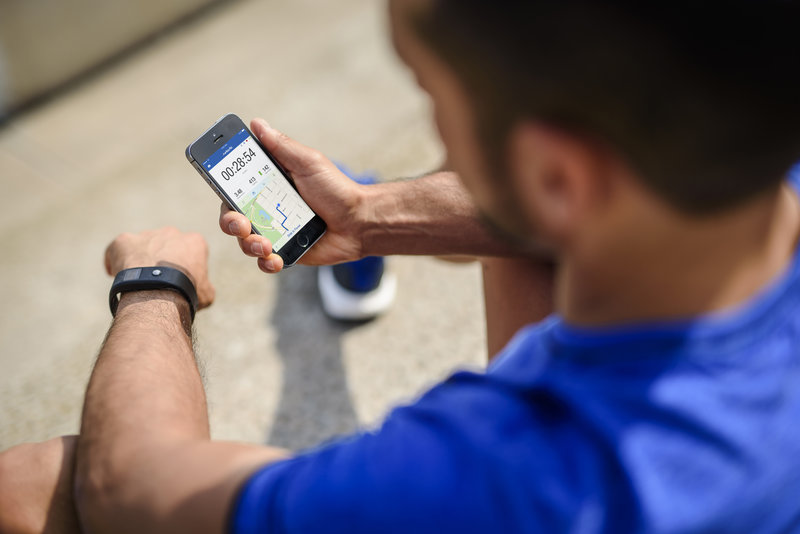 Runtastic is one of the most popular apps for athletes, which is compatible with IOS, Android, Windows Phone and Blackberry phones and can be downloaded free (Runtastic lite) or going for advanced features in the premium version for few dollars.
Runtastic app interface is very clear and simple, it has information about the rhythm, the distance, the calories burned and the speed, as well as a map where your route is shown.
How Runtastic Works
The operation of Runtastic is very simple. Just download the application, set up your own account and register the required fields. Your account is already created. Once you access your account dashboard, select the sport you want to perform, there are many and varied: running, basketball, aerobic, diving, treadmill, climbing, skiing, golf etc..
At the beginning of the Runtastic session, you will begin collecting the data from your workout session. If for example you are running or walking, with every kilometer, a voice will be indicating your progress.
What Runtastic app does is to simulate a "personal trainer" to do all kinds of sports or outdoor activities for you and you can track and analyze your workouts statistics.
As a fitness expert, discipline is very much important to achieve fitness or any other psychomotor skill but been under guidelines can not be left out.
Although, this is a virtual athletic trainer but I can assure youthat, you can easily practice the skills and principles observed from your virtual personal athletic trainer.
Runtastic app is not designed for sprinters only by you can also setit up for your bike routes, motorbike, or other physical activities such as basketball, aerobics, scuba diving, treadmill, climbing, skiing, golf, hiking, tennis, yoga, etc. The app is fully loaded with sports games you can acquire some technical skills.
I remember the year we learnt tennis in school, despite having poor tennis racket, I was able to apply the skills acquired in Gameloft tennis game, exploit the poor stance and footwork of my opponent player just like I did after I've become a professional in the mobile tennis game app on my phone then.
The features of Runtastic app are many and they're the following Getting the analysis of your workouts in real time on a map, designed with GPS function to monitor your progress in terms distance covered, speed, rhythm, calories burnt ,altitude, etc.
You're equipped with Staff Training journal and Metric on Weekly, monthly and annual basis.
You get detailed live mapping and historical cartography of previous sessions on Google maps.
You are able to configure the app inter Interface and modify the settings to show you the preferred statistics.
Your accomplishments of altitude, pace, speed and heart rate information are also analyzed on charts to easily understand the result.
You will be able to configure the way in which real-time information is presented to you, which can be by voice. Another interesting thing is your real-time performance details which can be shared with your friends on social networks like Facebook, Twitter etc.
Runtastic app has Auto pause feature in which you can stop to tie your shoelaces, stretch your arms or legs and the clock will automaticallystop, without having to open the app for pausing and then restart.
You also get pointer to the Heart rate Zone, where you can strengthen your workouts, train in a certain way in the right heart rate zone in order to strengthen your cardiovascular system, burn fat in the body and optimize your workout. You can as well set the amount of calories you want to burn.
You can get live weather information that will be automatically saved in your activities to guide you in you're training. If the weather is cloudy, then you need to concentrate more on driving to avoid accident.
You can Geo tag your activities. For example, you can take pictures during any sports session and the application will keep the exact location of where you take the picture.
This app is more than sports practice game but just like in sports, you're bound to learn the traits to become responsible in the social settings and also learn to be efficient and productive in your calling.
With Runtastic Music you can easily navigate by selecting genre, artist or album and also allows you to create playlists that will help you motivate yourself.
You can also create custom routes, set goals, check your speeds, calories burnt in the body, etc, and if you think you can win, share with your friends. After completing each training session, your statistics are uploaded directly to your Runtastic account on the Web, and you can also share your data on the networks