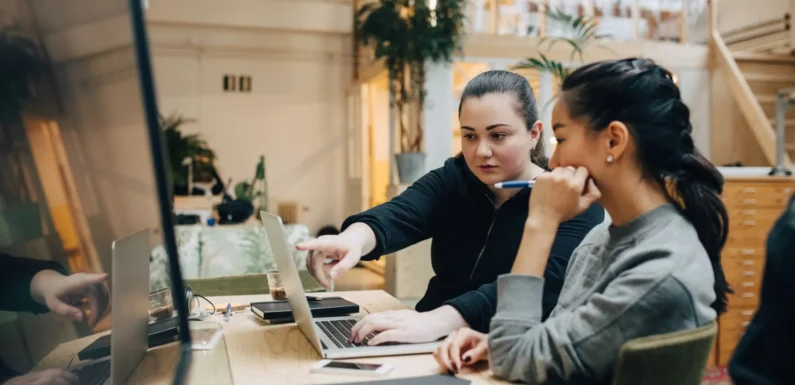 Did you know? Non-fungible tokens popularly known as NFTs are one of the popular use cases of Blockchain technology. The craze of NFTs is surging at full throttle and has stirred up a revolution in the realm of digital collectibles. Recent reports reveal that digital assets have been sold for millions of dollars making them a lucrative revenue source for investors, entrepreneurs, composers, artists, gamers, and influencers.
Furthermore, a report by Verified Market Research, a leading consulting and global research firm, indicates that the market worth of non-fungible tokens is estimated to rise to 231 billion USD by 2030. If you are also planning to cash in on the NFT revolution, read on to this informative piece to grab your share of the pie.
What are Non-fungible Tokens (NFTs)?
As the name suggests, NFTs are Blockchain-based cryptographic assets having unique identification codes and metadata. In other words, a non-fungible token (NFT) is a form of digital ledger that represents real-world objects such as images, artworks, music, videos, in-game items, real estate, etc. Since these are digital assets, they can't be traded or exchanged with other items, even if their values are equivalent.
The important thing to note here is that non-fungible tokens are immutable in nature, which simply means, it is impossible to edit, modify, or delete digital assets. Though users may duplicate an artwork, the ownership of the digital asset remains secure since it is in the hands of the original creator. This enables both buyers and sellers to maintain a complete ownership record.
An Overview of NFT Marketplace Development
With the dramatic rise of non-fungible tokens, several NFT marketplaces and platforms have emerged in the past few years. An NFT marketplace is a platform where individuals can buy, sell, trade, and mint non-fungible tokens (NFTs). These Blockchain-based platforms bridge the gap between buyers and sellers by bringing them together.
On an NFT marketplace, sellers can create listings for their non-fungible tokens (NFTs), which primarily include:
Digital Artwork
Memes
GIFs
Trade cards
Games
Domains
Music
Tokens
Licenses
Tweets
Music
Video
Ticket/Coupon
Once the listing is created, buyers can search through the listings and bid prices during an auction for the digital collectables they are interested in buying. Post-auction completion, the NFT marketplace will transfer the digital assets to the buyer's account.
Key Steps to Follow for NFT Marketplace Development
When it comes to custom NFT marketplace platform development, you should religiously follow all the steps listed below:
Step 1: Define Your Niche
First things first – choosing a specific niche for NFT marketplace development can help you commence your NFT venture in 2023. If you lack clarity over your idea, it's considered wise to talk to NFT developers, devise a strategic development plan, and estimate the duration for developing a marketplace.
Step 2: Pick Your Blockchain
After determining the niche, you should choose the right Blockchain network. There are many Blockchain networks out there, you should choose the one that is interoperable, robust, scalable, and secure. Some popular examples of Blockchain networks for NFT marketplace development include Ethereum, Binance Smart Chain, Cardano, Polkadot, Solana, Tezos, Stellar, and more. You may also develop an NFT marketplace that supports multiple Blockchains in one place.
Step 3: Decide Your NFT Marketplace UI/UX
UI/UX plays a critical role and can make or break your NFT venture. When developing an NFT marketplace, you should always make sure that the interface is not only intuitive and appealing but also offers a delightful experience to users when navigating from one page to other.
Step 4: Move to Front-end Development
It's time to bring your idea to life with front-end development. Choose a reliable framework that meets all your NFT marketplace development requirements. Hire a seasoned NFT developer from a professional development company to ensure high credibility and functionality.
Step 5: Apply Smart Contracts Token Generator
The back-end development for an NFT platform is not similar to traditional marketplaces. Since an NFT marketplace is a decentralized platform, a majority of data that undergoes through it is verified using Blockchain technology.
Step 6: Integrate Third-Party Services
To develop a successful NFT marketplace, you should consider integrating third-party services like social media platforms, crypto wallets, payment gateways, and email services.
Step 7: Testing and Deployment
Last but not the least is testing and deployment of an NFT marketplace. This is the most critical stage wherein you can identify and resolve all the shortcomings.
Notable Benefits of NFT Marketplace Development
Decentralization
Increased Liquidity
Reduced Costs
Global Reach
24/7 Availability
Complete Transparency
Enhanced Security
NFT's Indivisible Nature
Validity and Unique Ownership
Tech Stack Required for NFT Marketplace Development
Blockchain Platform (Ethereum, Binance Smart Chain, Solana, Polygon, etc.)
Storage Platform
Wallet Integration (MetaMask, Enjin, Trust Wallet, Math Wallet, etc.)
Frontend framework (Angular, React, etc.)
Token Standard (ERC-721, ERC-1155)
How Much Does it Cost for NFT Marketplace Development?
The cost of developing an NFT marketplace depends upon the factors listed below:
Number of features you need
Tech Stack used
Time for development
Developers cost
Third-party APIs integration
Summing Up
It is undeniably true that NFT marketplace development can be immensely rewarding. With NFTs gaining strong momentum, the demand for developing an NFT marketplace has been rising incredibly. If you are also planning to jump on the bandwagon of NFT marketplace development, you should refer to this detailed yet informative post as a checklist.