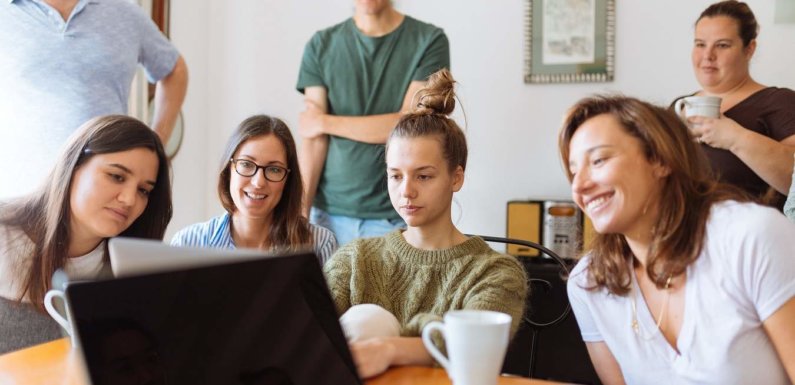 To fulfill the understanding of these conceptions a very brief detailed information is illustrated in the introductory section hereafter.
Product – A product is generally any good, idea, conception or service that can be extended to any market for satisfying the market necessities and desires. In other words, the product is also considered as an object or system which has its availability for consumer usage. As products, there are two types which are respectively; raw materials and merchandise. A product is an item for sale that can be found in the physical, virtual or cyber formation.
New Product – New product is considered as the object which any business has never made or sold, in other words, any creation, demonstration or innovation which can be brought to the market for the first time. New products necessitate designing.
Launching – Launching is generally considered as an event for introducing, inaugurating or celebrating anything new and fresh. It is also the process of beginning something new.
Marketing Tips – Marketing is considered as a researched study of exchange oriented relationships and proper prior management. Some necessary elements of marketing are business management and commerce through which the customers can be attracted, retained and satisfied. Hereby, the marketing tips mean the necessary processes for obtaining that.
Marketing tips, tactics and strategies for launching a new product in 2020 –
The specific subject of launching a new product in 2020 can become of huge success if all the necessary tips, tactics and Marketing strategies are thoroughly followed as mentioned in the heading section of this column along with the pre-launching session.
Pre-launch planning check-list –
Usually, in earlier days, the pre-launches used to be a Bing-bang and a lot of money and time used to get involved. The organizing team used to build products, design launching pages and marketing platforms and altogether associate them with a proper public relation plan.
But in recent times product launch is considered to be a deciding moment. The successful approach towards product launch starting early and getting as much feedback as possible within a given period of time.
1. Early sharing with a limited group of users –
The time when you launch the product, you must be sure that the product would not fall off. But of course, you should be well aware of the users. The product should possess a minimum amount of value and the feedback must be obtained much before then launching the product.
The seller must be very much aware of the product's necessity and demand along with how much the product is liked or loved by the viewers. The early users largely depend on the product's quality.
The first of all users must be contained within your teammates, group members, friends, and business people. If the desire is oriented towards receiving unbiased feedback, then a tool can help for creating custom landing pages.
2. Call for or enquire about product feedback and marketing feedback –
Feedback can be regarded as the most important criterion when someone is looking for pre-launch. It is not only about the product feedback that whether the product has issues or bugs or not but much more can be realized and obtained by talking to the users Those are respectively;
1. The languages they use for expressing their prior experience.
2. Their place of obtaining the real value of their product.
3. The not so fashioned and fond necessities they have!
These questions answer a lot to the marketing team, they perceive an over-all idea about the customer and can plan their product accordingly.
Acquiring the knowledge and checking the various versions of the landing page assists the marketing team and product team to develop many kinds of perceptions and wisdom.
3. Aggression towards rectifying the mistakes –
Launching a new product can be the most dangerous process where you are not necessitated or required to put your ego as a founder in front of the business. Therefore, the creator must open him or herself towards the honest and very true feedbacks and gladly accept them as a challenge.
There are certain questions which are needed to be asked if as a founder you are looking for marketing and your product whereabouts. Those are respectively;
1. Was the test made up with a beta group where you as a creator were motivated towards liking the product?
2. Were the users biased through the mode and medium of your speech as a seller?
3. Are the right questions being asked and in return the honest and right answers are being received?
4. Retaining the mentors, guides, admirers, and supporters –
It must be duly noted that the initial users of yours won't be the only ones for your product pre-launch. If you are talking to mentors or guides and taking support from the admirers, then one thing you must be sure of that later on also you maintain those relationships in an intact manner and with a very open viewpoint.
You as a founder or creator must chalk down the onboard planning and your to-do lists as launching a product some time become a headache due to its so much time consumption-ness. So the supporters and admirers those who want to aid or help must be kept in contact with yourself.
5. The golden rule of keeping things less viable in times of doubt –
The feedbacks can often become scrupulous and can bear many unimaginable consequences along with the analytical paralysis which is thrown towards the management members. When you are unable to select or take proper decisions regarding your product the only way to keep it sane is by doing less than required.
It might occur that you are supposing that many features are required but you must always focus on the core features which are attending able and cannot be ignored. The users or viewers must not be confused.
6. Choosing the launching day and be on time and date with it –
The primary question about how to launch a product generally lies in when or on which date it is needed to be launched. Beyond the competition or definition of bad and good the launching, the date must remain under your observation and control.
After picking up the correct date, time and venue the next thing is to be up on it or stick with it.
7. Deciding and choosing launching platform –
In maximum possible cases, you are often required to choose a single platform for focusing on your product launch. There only you as a founder can measure your success, communicate with your users and receive the necessary feedback. But the platform must be picked before you plan to launch the product.
Nowadays, it can be launched anywhere you want it. In certain websites also you can talk about the product. However, you must be included in a community where you can have insightful feedback.
As a creator, you must create goodwill and a good value for the customers as well as the viewers. For the product, you are required to be a part of the providing community and engage or involve yourself wholeheartedly. Afterward, you can always offer the provision of your well-deserved advice and opinions.
8. Polishing the product and marketing it appropriately –
As a member of the board of founders, you must always make everything ready and going in advance of the launching system. This generally or usually means designing the tools and technologies, marketing the graphics and visuals, copying, sending, emails and onboarding flows.
The necessary materials which are required for product launching must be planned beforehand along with creating a product launch plan checklist of everything is extremely essential.
9. Setting goals beyond expectations –
Launching days generally remain in non-prediction or unsure therefore keeping all the things under control is not a very good thing especially in case of press, signups, and downloads. Rather than that, keeping a realistic goal ahead and thriving for achieving it can be considered as a good idea.
The final goal is always to create a long-lasting or well-retained customers or on-lookers. Therefore, creating awareness as well as retaining the connection by the mode of obtaining feedback prior to the launch is what is required the most.
10. Utilization of the founder's personal story for building up the necessary hype and over desired buzz –
Generally, the founders, creators, and enthusiasts must be well aware of the hype and buzz they are creating are only for the customers and audience. Therefore, they must not be self-oriented or self-consumed.
Conclusion –
The above mentioned are the basic guideline for the necessary marketing tips for launching a new product in 2020, but along with it the founders and creators must also remain serious and active towards the activities of launching day and post-launch works.