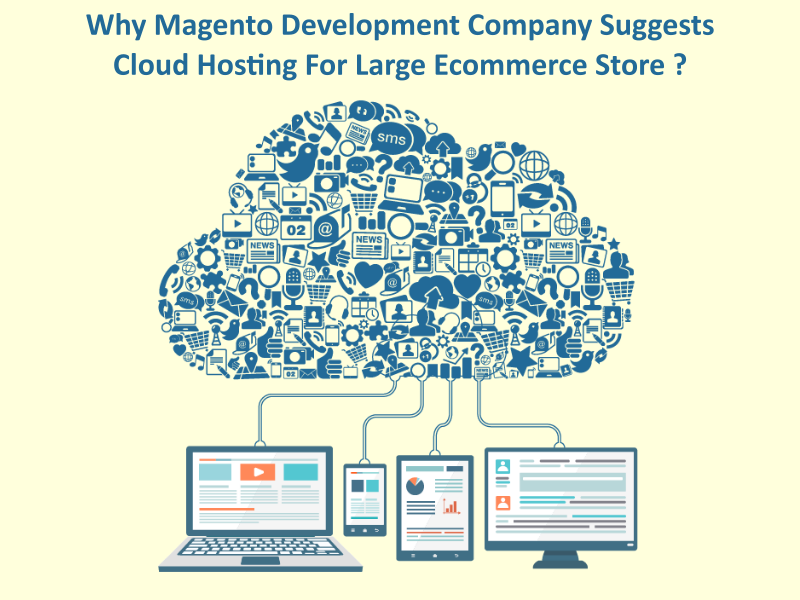 Online shopping drives a huge share of sales these days. So getting your products listed online with the help of Magento developers in India. It is one of the fastest ways to start establishing you as a brand among your present and potential clients. Whether you are a newbie or a well-established business, the vision of streamlining your entire business on the web can save you from several brick-and-mortar experiences.
Now, developing an ecommerce website with popular and reliable platform is not enough. And it may or may not suffice the successful launch. And therefore, choosing a reliable web hosting provider such Go Daddy, Rackspace is very important. Here I have come up with a few essential reasons for choosing a trustworthy web hosting provider:-
Resources are not leaked- The moment you select a dedicated Magento web hosting provider for your business, you must ensure to receive full resources of the single server. Which means you don't need to worry about other websites clogging up the server's CPU and RAM. Moreover, with a dedicated server, you can be sure that the scripts running on other websites won't slow your server down.
Transforms a potential spammer to a decent website- Choosing a dedicated hosting provider guarantees maximum uptime for your website. In addition to this, the service provider even allows enhanced security especially for companies handling sensitive transactions over FTP or SSL.
Flexibility- With the help of a dedicated service provider, one can even customize the server to the clients for CPU, RAM, Space, and software. Basically, it allows the organization a customizable server environment that fit their needs appropriately.
By seeking around for skilled Magento developers, one should always think of developing a fully-optimized e-commerce site. As the consistency in high performance of the websites ends up driving the sale to a great extent. Moreover, the proper maintenance of a website is mandatory just to make sure the smooth running of the online store. As a result, it becomes very important to hire system administrators who can take care of numerous factors such as Magento system architecture, load balancing, creates fault-tolerant solutions both for physical and cloud server.
Let's go through the current web hosting trends
These days, business owners prefer cloud hosting as it is one of the most considerable and optimal option. The cloud solution comprises a set of services as briefed below:-
Magento Clustering- It distributes the load between the several independent servers so that the online store platforms exceptionally good.
Profiling- Profiling helps to remove the system bottlenecks that affect the performance and ensure the best experience.
Cache configuration- The configuration of the caching system by using Redis, Varnish, FPC or the Memcache helps to have an incredible fast site.
Automated horizontal scaling- The cloud infrastructure ensures the handling of the store even when there is a large number of visitors.
Top Three Magento cloud hosting providers
SiteGround
Whether you own a small business or have a big marketing budget, the company offers its services just at $3.95/mo. They have a team of skilled professionals who not only supports for one website but even offers 10000 visits on the monthly basis.
LiquidWeb
LiquidWeb might be a bit costly in comparison to SiteGround. And perhaps it does not even support PCI complaint on a shared server. But when it comes to Magento cloud hosting providers, our developers found this company to be favorite. Before making any decision, make sure that your needs are determined by your size. eTatvaSoft – Magento development company in India is 100% compatible with liquid and offers 24/7 support. If you are a small business but wish to step up SiteGround then this company has to be your ultimate choice.
Nexcess
If you run a medium to large sized business, Nexcess is by far the best and favorite. They offer Magento development India at a pretty reasonable price. Although the company takes the time to answer queries of their customer. But they make sure their customer is satisfied and doesn't need to look further for any Magento hosting provider.
Lastly, the right hosting provider is the one who strives hard to deliver results beyond expectation. So, don't sign on the immediate basis especially into any long term contracts regarding Magento ecommerce development.
Reference :
http://kodework.com/10-reasons-to-use-magento/
http://www.ithands.com/blog/magento-vs-shopify/