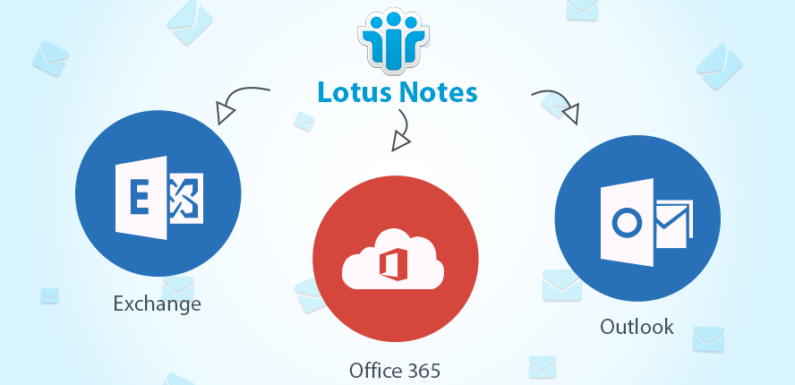 "I am using IBM Notes from a little while now. But, now I am looking to migrate Lotus Notes to Exchange as soon as possible as it is becoming difficult for me to manage the email client and its maintenance charges are also higher than that of Microsoft Exchange. I have a large amount of mailbox data so, I am looking for a reliable solution which can help me to export Lotus Domino to Exchange Online with ease. Can anyone please provide me a manual method or Lotus Notes Application Migration Tool using which I can perform the conversion? Thanks in Advance!"
During the peak time of IBM Notes / Domino, they were not only used for email messaging or collaboration, but also for development and departmental applications. The most common reason why many companies are switching their email clients from Lotus Domino to Exchange Online is to replace the email infrastructure which is not up to the user's expectations. In the majority of the cases, the destination email application is Microsoft Exchange as it is nowadays a market leader in the corporate world.

Challenges Faced by the Users
Particularly, there are four major challenges which a user has to face because of which many users want to export IBM Domino to Exchange Online.
1. Poor Usability –
The expectations from the enterprise have certainly changed from the past few years. It is mainly influenced due to massive adoption of social media platforms and smartphones. The users just want the simple apps which they can use every day.
2. Lack of Openness –
Business applications nowadays must support information from multiple data sources and systems. Thus, IBM Notes shortfalls the openness and connectivity due to which many users want to perform Lotus Notes Application Migration.
3. Complex Management –
The escalation in the local Lotus Notes servers installation has created a havoc for the IT Admins to manage the application which in turn lacks the control and governance required by IT.
4. High Cost of Ownership –
The entire cost of ownership while taking everything into consideration such as the installation of Lotus Notes servers and management does not do justice to the value delivered.
Lotus Notes Application Migration Tool – Best Solution to Transfer Mailbox Database
After doing some research work and analysis, we found that exporting mailbox data with the help of an automated solution is the best deal. There is one software i.e. SysTools Lotus Notes to Exchange Migration Wizard which offers users to convert Domino Server items such as emails, tasks, calendar, contacts, etc. without any data loss.
The unique set of features offered by this software makes it a reliable solution for conversion. Some of the advanced features of the Domino to Exchange Online conversion tool are discussed below:
Migrate Lotus Notes to 3 Major Platforms –
The users who want to transfer their Domino mailbox data can use this application as it offers 3 export options as the destination email clients for conversion. Microsoft Exchange, Office 365 and Outlook are the email platforms to which the users can transfer their data.
Support for Batch Migration –
If a user is having multiple NSF files stored in the system which he/she wants to transfer, then this tool provides an option for bulk conversion which makes it an efficient software.
Supports Conversion of Encrypted Files –
The encryption in NSF files can also be removed by using this Lotus Notes Application Migration Tool. Any type of encryption available in the NSF file is decrypted and then users can convert the file to the desired destination platform.
Selective Data Conversion by Applying Filters –
Although the software to migrate Lotus Notes to Exchange Online supports batch conversion for an efficient process. But, if the users want to convert only selective data, then they can filter only the required data by applying various filters to the data.
Option to Remove Redundant Contacts –
If your NSF files have some duplicate contacts stored in it, then you can also eliminate those contacts with the help of this conversion application. It is a useful feature when it comes to migrating Domino to Exchange.
Conclusion
If any user wants to transfer Domino to Exchange Online, then the best possible solution is to go for a third-party application. Users can use the above-mentioned utility to execute conversion as it offers users to export data into 3 major emailing platforms. Moreover, the most common factors responsible for switching the email application are also discussed.