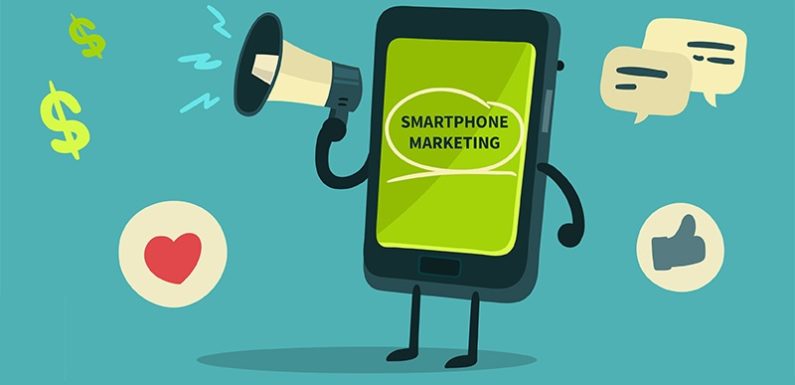 Smartphone marketing is distinctive when compared to other practices of marketing mainly because it lets small businesses get exclusively in front of clients on devices they use on a regular basis.
From smartphone check-ins to SMS messages, to social media and emails, smartphone marketing may aid small businesses to help boost sales when they give out coupons or provide good deals, product sales, or marketing promotions to clients.
After the launch of the iPhone in 2007 smartphone web use is ever-increasing, now more than 65% of web traffic is on smartphones. This emerging trend will keep expanding till desktops become the appliance for power end-users in the desire of the larger screen.
WhatsApp marketing
The top-notch side of sending WhatsApp messages is something to incorporate. WhatsApp is much more than everyday chatting – even financial companies now submit classified data via WhatsApp and it's pretty sturdy. Considering that more than three-quarters of the world's smartphones are WhatsApp facilitated, it's time to ensure that your small business is too.
The main reason to use WhatsApp for small business is that most of your consumers are most likely using it. Much more than 60 billion messages are forwarded through WhatsApp every day. Messaging applications like WhatsApp have an amazing engagement rate: 98% of smartphone messages are opened and looked at, with 90% of them getting opened within 3 seconds of being received.
Here is a sales advice – If you do your followups on WhatsApp rather than going for direct phone calls, you will get 40% more reply. No one values phone calls from unidentified numbers but we are more likely to reply to private messages. When I focused on using WhatsApp for client interaction, I observed better feedback and participation.WhatsApp could be a very good medium for customer assistance mainly because of its broader reach. Your clients would always choose to send you a message over WhatsApp instead of calling a call center or bringing up a ticket.
WhatsApp can be a very powerful marketing tool. It is a good one-to-one system for smooth interaction with our target audience. You can use WhatsApp to send out photos, audio files, little video clips of your merchandise and text messages to individuals across the world. However, This doesn't imply that you should spam your consumers with WhatsApp sales messages. Preferably you should use WhatsApp to associate with current faithful customers instead of trying to attain new clients. Every person hates promotions coming from unwanted numbers.
Have significant social media appearance
A continuously growing number of users push through their day on smartphones and tabs, others attached to social media the most of the time. Plus, as the traditional knowledge of marketing would have it, it's unlikely for your small business to make revenue without getting potential clients where they are.
Facebook isn't exactly about fun and games, even though it is a lot of fun, it's also an awesome way to get new clients. Marketing is about initially offering to your customers. This suggests you should offer your audience on social media what you would want for yourself. Share posts and start thoughtful interactions. Leave comments and talk to and answer queries. Work to make sure your brand name is where people see it and value it; it doesn't take a lot of time out of your day.
To make things easy for you,  I've listed out five mobile marketing fads affecting social media.
Most users use social media on mobile devices
Niche mobile apps are taking the place of static landing pages
The news is being enjoyed more by means of smartphone technology and social media than ever previously
Social media users' preference of platform matches natural market division
" Interactional" and "local" ads provide better buyer experience and better ROI
Mobile Ads
Speaking of ads, Showing up on smartphones is important for small businesses.  94% of smartphone owners check out local information on their smartphone and 90% follow through as a result, such as for instance making a purchase or consulting the business.
With the day-to-day exposure to the Internet, social media sites, and the 28 applications smartphone owners have set up on an average, mobile advertising remains and will proceed to be an excellent strategy for small businesses.
Entrepreneurs are simply following the eyeballs. Video-based, location-based ads and rich media are very best for mobile advertising. You just need to observe what Facebook is doing with Local marketing promotions; the ad gives you route to locate the store near you. Google includes ad extensions and Tap to Call function to get the shop business hours and a phone call from your smartphone.
Related: Best Mobile Ad Formats for Display Advertising Campaigns
Bonus Tip! – Integrate mobile payments
Small businesses have both a product or a service to provide to their customers. Thus, your solution should consist of approval of mobile payments – know what to find in a transaction processor before you surge to make a conclusion. Payment processors offer numerous advantages when it comes to servicing, safety measures, user-friendliness, and cost efficiency. Make it smoother for customers to pay you with the present payment choices.
Conclusion
Smartphone marketing isn't going away – it's, in fact, our future — now is the time to act. Although some small business owners steer clear from smartphone marketing because they see it to be complicated or frustrating. Many understand it's essentially yet another way to promote a small business. In the end, small business owners are in a greater position to make use of mobile for customer participation. It's all about interacting with customers, and smartphone allows that to go on.