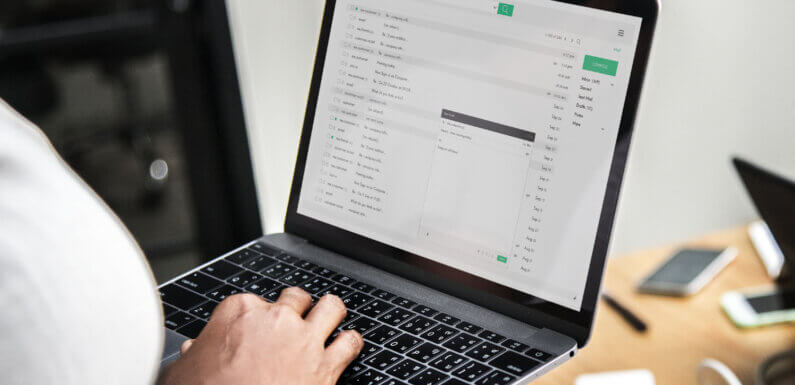 MBOX file format used by 20+ email clients like Thunderbird, Apple Mail, SeaMonkey, etc. However, MBOX is a portable file extension & used by many email applications, but many users are there who's want MBOX into Outlook due to business requirements. Apart from this, the Outlook email client is more secure and provides many advanced features that all are helpful for business users as well as home users. However, to accessing MBOX file data into Outlook email client users have to migrate MBOX to Outlook. So in this blog, we are going to describe a free method to import MBOX files to Outlook.
In this blog, we will explain the free manual method and automated method to do this task. Both methods will help you perform this task. Let's start from the beginning.
Free Methods to Import MBOX to Outlook
Free methods to migrate MBOX files to Outlook is divided into two steps –
1: Extract MBOX emails as EML file extension.
2: Drag & Drop EML emails into Outlook.
Let's start from the first steps where we will extract MBOX emails into EML files.
Extract MBOX Emails as EML Files
1: Open MBOX compatible email client (here we are using Thunderbird email client), right-click on the folder, and click on the New Folder option.
2: Enter the folder name and click on Create Folder.
3: Now, select all email which you want to import into Outlook then move these emails into the newly created a folder.
4: Now, you can see all emails are in this folder.
5: Select all emails, right-click on it, and select Save as an option. Now you can see all emails are saved in the EML extension.
Drag & Drop MBOX Emails into Outlook
By drag & drop you can easily into MBOX emails into Outlook, but you have to import emails into Outlook one by one. Once emails are imported into Outlook you can access all emails.
Automated Method to Migrate MBOX to Outlook
The manual method always has its own disadvantages like the above method is lengthy & it will take time to import MBOX to Outlook. Therefore we would like to suggest you automated MBOX to PST converter. This tool will easily convert MBOX file/files to PST file. After conversion, you can easily import PST into Outlook email client. The tool provides many advanced features some highlighted features are below:
1: The tool will convert MBOX to Outlook importable PST format with entire data.
2: It supports selective and bulk MBOX to Outlook conversion.
3: Export MBOX data into UNICODE PST file which is importable into Outlook 2019, 2016, 2013, 2010, 2007, 2003.
4: Tool supports all MBOX compatible email client and convert into PST file.
5: Maintain data integrity of the MBOX file after conversion.
6: Also export MBX, MBS, SBD to Outlook.
Steps to Import MBOX files to Outlook
1: Start software & select MBOX file which you want to import Outlook. Tool provides option Select File / Select Folder option to add MBOX file into software.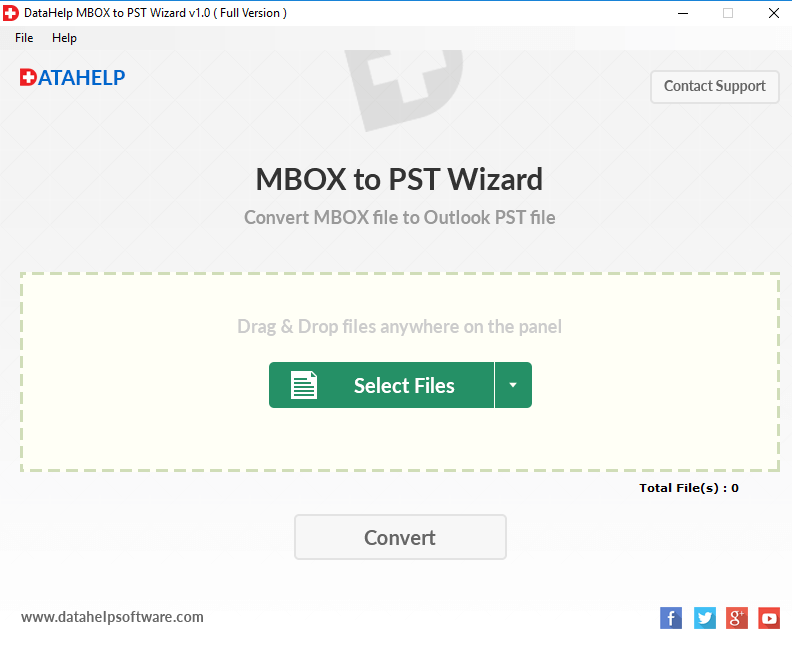 2: After selecting MBOX file click on Convert button to start process.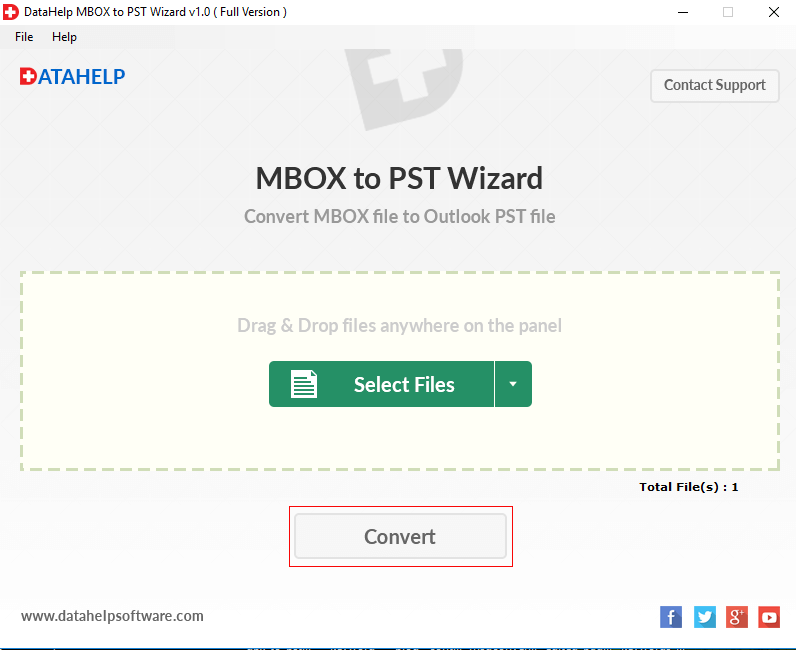 3: Now, select destination location to save output file. Then click on OK button.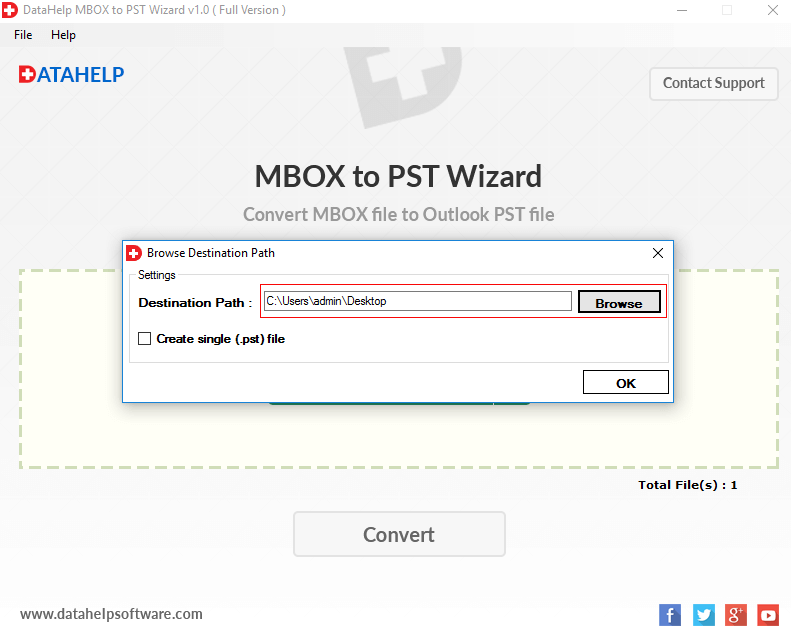 4: Now, software starts converting MBOX file to Outlook importable PST file.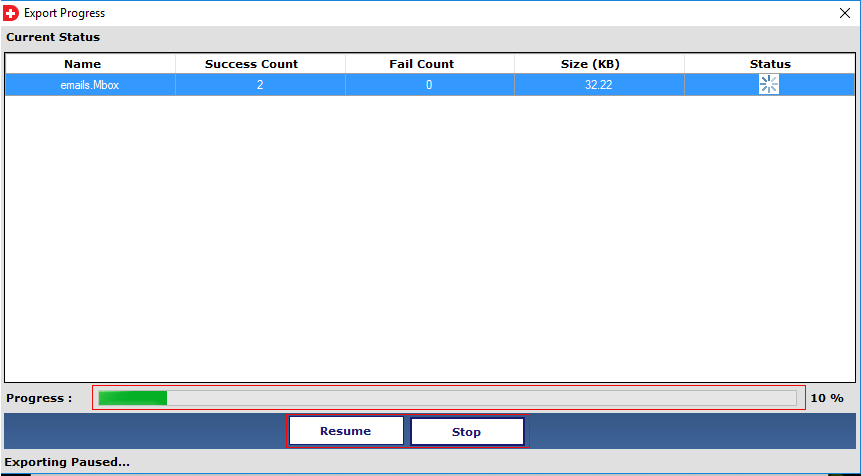 5: You can save conversion report into local machine.
Conclusion
There are many users who need to import MBOX to Outlook email application, but they need to select the right method to easily do this task. In this blog, we have explained methods that both help you to migrate MBOX files to Outlook. Due to some drawbacks of the manual method, we suggested you use an automated converter tool.