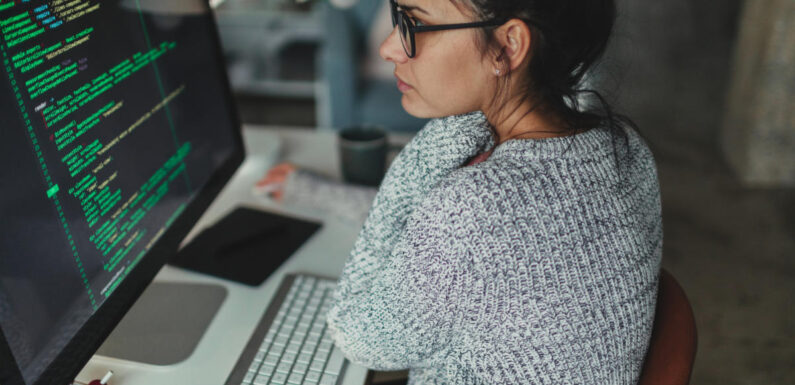 Want to hire a mobile app developer USA? Hmm! The most tedious task is to hire dedicated mobile app developers that fit perfectly in your shoes. We are living in an era where most of the business operates from the finger-tip on mobile, even the local coffee shop also has its own mobile application. So one must have a business mobile application to sustain in the cut-throat competition.
Nowadays it's very easy to hire mobile application developers in the USA because there are many outsourcing websites for freelancing platforms. Websites like Fiverr or Freelancer or other Toptal alternatives are claiming for best freelancer instantly but still, they couldn't figure out the quality workflow. So the main task is to choose suitable app developers.
Being a leading mobile app development company in the USA, we are well acquainted with the latest app development process and tools. We have strongly believed that the right sources have ample skills to elevate any business authority. So choosing the right app developers is a vital part of any app owner. In this post, we are addressing the same, how to hire a mobile app developer USA with some awesome tips.
Tips To Hire Mobile Application Developer USA
It looks like a piece of cake to hire an app developer but at the time you dive into reality, you definitely realized this is a lot complex to land up at a suitable app developer. The thing is you have to prepare for the depth research.
Here we are addressing some helpful tips on how to hire a mobile application developer in the USA
Google Knows Everything!
To make a decision on your dream application, all you need to do is make proper research. The best way is to Google it and jot down all answers about your queries such as best mobile app development platform, best mobile app category for Android/iOS, best framework or UI tool kit for application. You can also search how your competitors making the lead and which technology they used.
Set Your Priorities
Before hiring any developer or designer first you have to sharpen your thought. Most mobile app developer only follows clients instruction and try to deliver as client recite them. So it depends on you what how your mobile app looks like in reality. If you settle the priorities about app features, app platform (Android/iOS), app design and so on, then it helps the developer to meet your expectations.
Sound Technically Helps
Hiring any technical forks doesn't mean you are free from any further technical issues. The best way to deal with such factors is to research a little bit about the technology and development process. It helps in communicating with the developers, you can easily suggest any changes in the app, otherwise, ready to sound like a fool. If you are acquainted with the technical terms then developers take it seriously.
If you follow the above 3 tips while hiring a mobile app developer then we will ensure that your research will end with a dedicated mobile app programmer and your mobile app is also robust in the result. The intention of giving the idea about the whole hiring process makes it easier and reliable.
How To Hire Mobile App Developer USA
Make The Fake Inquiry
The first step towards hiring an app developer is making several fake inquiries. By placing the fake inquiries and comparing app development quotes, you can easily figure out the demand and estimated budget of developing mobile applications. Put your priority on board so you can finalize the list of the appropriate three options.
Check The Credentials
While your search retrenchment around three resources, now all have to do is examine all credentials. Take your time in examining the portfolios, it will give you a rough idea about the developer's technical skills. Portfolio also offers the conclusion for past experience and addresses relevant app developers gonna handle your dream project. Make sure to check the reviews and feedback from previous clients to identify the developer-client relationship.
Ask Everything That Comes To Your Concern
It's always good to clear all the doubts before starting the project. Jot down every single concern that could be affecting your dream application, no matter how good or bad it will. Discuss every feature with your app developers to clear the vision and requirements. Make sure to discuss app design, features, app category, and above all decide the final budget.
If there are budget issues, then kindly talk to the developer and try to insist. Somehow, the developer cut the development cost but if it not balancing then it is good to choose another one. There is a sea of mobile app developers available so it is all up to you. Make sure to give the appropriate time for app development, otherwise, ready to sacrifice with the creativity and major features.
Must Feature in Mobile App Development Services
iPhone App Development
iOS App Development
Android App Development
Cross-Platform App Development
Native & Hybrid App Development
Mobile App UI & UX Design
Cost Effective & Customer-Centric
Productive & Profitable Application
Best Way To Hire Mobile App Developer USA
Hire Mobile App Developer As Freelancer
Hiring an app developer is quite easy as a freelancer, there are several web portals that are providing freelance developers. The most popular websites are Fiverr, Freelancer, Toptal, Guru, and so on. The advantage of hiring a freelancer is they reduce the development cost, can develop special features, and above all they are not bound to work under the organization which means they are flexible in the work process. But as we know coins have two sides, similar to working with freelancers. The cons are, Freelancers are less professional, less technically strong, and they have fewer resources or tools.
Hire Mobile App Developer From Renowned Company
It's a contradiction that Hiring a mobile app development company will affect pockets. Actually, many app development companies cater to their best services in a competitive price range. There are many reputed companies which are offering to outsource, you can hire mobile app developer the USA for full-time, part-time or hourly basis. All you have to do is hire a renowned mobile app development company USA such as ACQUAINT SOFTTECH. The advantage of hiring mobile app developers from a reputed company, an experienced team of developers, expert suggestions, and above all you will get support while your app stumbles on the app store.
Conclusion
While we are wrapping up, there are some takeaways for hiring mobile application developers. Some takeaways are research on Google, checking the reviews and portfolios, jot down the entire app requirement. All in all, there are two options for hiring suitable app programmers, the first is a freelancer and the second are hiring from renowned mobile app development company the USA. If you found anything interesting in the post, then feel free to SHARE it with your besties.