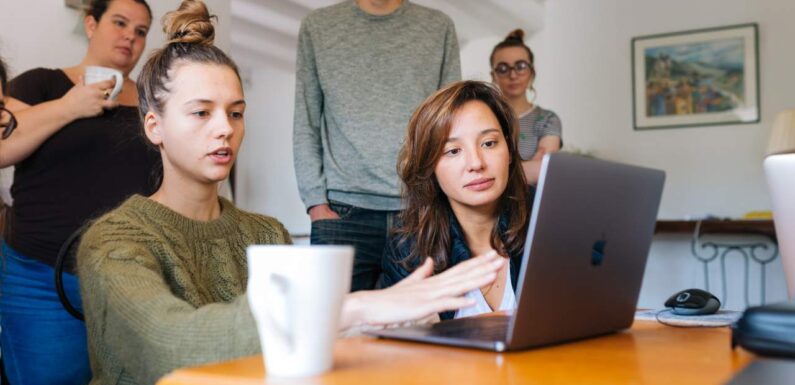 The pandemic has profoundly affected the retail sector, disrupting current business models and leading to a shift in consumer behavior. It has prompted the retail industry to reimagine how they do business and to adopt new technologies to remain competitive.
With the advent of the digital norm, now online shopping has become the go-to option for many consumers. It has given the right options to buyers with convenience and the ability to shop for the latest trends from the comfort of their homes. With the rise in online shopping, retailers have had to shift their focus to digital marketing and e-commerce. This shift has allowed businesses to reach out to customers in new and more efficient ways with emerging technology trends in retail industry.
Advanced technologies redefining the retail industry
As businesses continue looking for ways to improve their customer experience, they should consider partnering with retail software developers to help them create customized solutions for their specific needs.
By leveraging cutting-edge technologies, businesses can gain a competitive advantage and create a better customer shopping experience.
With the help of new technologies, retailers can create a more engaging shopping experience for their customers. They can offer personalized recommendations, tailored discounts, and interactive experiences, retailers can create a more engaging shopping experience that encourages customers to return to their stores.
Advanced technologies are transforming the retail industry and providing businesses with the tools they need to stay competitive. If you too are willing to unleash emerging technology trends in retail industry, then this blog is your guide hook to.
Let's discuss seven retail technology trends shaping business outcomes in 2023.
PoS system integration
With the growth of online shopping, businesses need to have a Point of Sale (PoS) system that can manage both in-person and online transactions. This can be done by integrating inventory, promotions, and customer service tools into the PoS system.
This allows businesses to streamline operations and ensure customers can easily access their desired products.
Indoor Positioning
Indoor navigation can help customers find the products they need quickly and easily, eliminating the need to wander around or ask staff for help. It can also personalize the shopping experience by providing customers with tailored recommendations and discounts.
It can be used to measure customer traffic and store performance, allowing companies to make more informed decisions about their business.
AR for retail
Virtual fitting rooms, AR navigation, and other AR experiences are becoming more commonplace in retail stores.
This technology allows customers to try on clothing virtually, get directions through stores more efficiently, and have a more immersive shopping experience.
As a result, those retailers that don't have these features are at a disadvantage and will likely see fewer customers and lower sales.
AI-driven demand forecast
AI technology can also be used to improve inventory planning by using predictive analytics to anticipate customer demand, automate ordering processes, and optimize stock levels.
It can also be used to improve relationships with customers and suppliers by providing personalized customer experiences and managing supplier relationships.
Finally, AI can be used for marketing purposes, such as personalizing ads and offers, optimizing marketing campaigns, and recommending products to customers.
Self-checkout with Artificial Intelligence
Self-checkout technology has become more advanced in recent years. Allowing customers to quickly and easily pay for their items without waiting in line.
mobile apps in retail industry are burgeoning at a rapid scale. And this technology can automatically scan items, calculate the total cost of the purchase. And accept payment via various methods, including debit and credit cards and contactless payment options.
Self-checkout technology also helps retailers save on labor costs and increase efficiency in their stores. It can help reduce shrinkage and improve customer satisfaction. As customers can quickly pay for their items and be on their way.
BOPIS
Buy Online Pick Up In-store (BOPIS) is an increasingly popular shopping option for many retailers. It allows customers to shop online and pick up their orders in-store. Eliminating the need for customers to wait in line or pay for shipping. This can also benefit retailers as it helps reduce inventory costs and increase customer satisfaction.
Voice Recognition
Voice recognition assistants are becoming increasingly popular as a tool for retailers to help build customer loyalty. By allowing customers to search for items and make purchases through voice commands. Retailers can reduce customer wait times and provide personalized experiences.
Also, voice recognition can help bridge the gap between online and in-store experiences. Allowing customers to find more products and make more informed purchases quickly and conveniently. This can lead to increased customer satisfaction, higher sales, and improved profits for retailers.
Future of emerging tech in the retail sector
The use of technology in the retail industry has become an inevitable part of the business. And it is essential to keep up with the latest trends. Retailers are continuously looking for innovative and efficient solutions. That can help them provide their customers with a better shopping experience.
In the coming years, retailers will be able to gain more insights into customers' buying behaviors. And preferences with the help of advanced technologies such as artificial intelligence, machine learning, and data analytics. These technologies allow retailers to personalize their services and products according to customer needs. This will not only lead to better customer experience but also increase the efficiency of their operations.
Final Words
Retailers are taking advantage of modern technology integrated in mobile app development to improve their operations and stay ahead of the competition.
Retail companies must create an experience that is tailored to their customer's needs, values, and preferences. This can include providing easy access to products and services, offering personalized customer service. And integrating new technologies such as AI-powered customer service bots and self-checkout systems.
As technology evolves, new opportunities for monetizing niche markets are emerging. Allowing retailers to capitalize on the latest trends in the industry.
Retailers must understand the importance of embracing state-of-the-art technologies and implementing them effectively to provide customers with a more personalized and enhanced shopping experience. This will not only help them boost their customer satisfaction levels but also help them gain a competitive edge over their rivals.