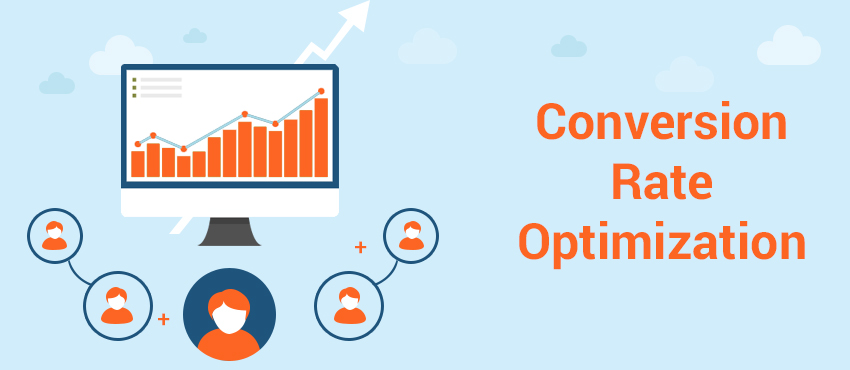 What is CRO and why it is important?
When explained in simple terms, the whole process of marketing is driving traffic towards your website, which then converts into customers or leads. Once this process starts to deliver results, you need to find more ways to generate more traffic, and subsequently, more results.
However, there is one more step involved. Focusing on leveraging existing traffic ie more customers from the existing traffic. That's where conversion rate optimization (CRO) comes in.
Conversion rate optimization is the fastest and most cost effective way to increase potential customers through your website. Even the smallest of businesses can benefit from increased conversion rates.
How to perform CRO?
CRO implementation is an iterative process. However any CRO implementation can be divided into these four steps:
Step 1 – Measure & Evaluate
The first step in the Conversion Rate Optimisation process is to measure the performance of your existing conversion process. It's vital that you can determine how many sales/leads/downloads etc are you currently receiving via your website in its current form. By doing so you can set benchmarks against which all of your Conversion Rate Optimisation efforts can be measured. Google Analytics is a tool which can help you to monitor your website's performance by setting up analytics goals and conversion funnels.
Step 2 – Analyse and Investigate
Once you've established your website's existing conversion performance and benchmarks, the next step is to analyse e what opportunities there might be for improvement. For example, from your Google Analytics data you might find that of those people who visit your enquiry or lead generation form, only a very small percentage actually go on to complete the form. At this stage you need to consider reasons as to why that might be. In addition to Google Analytics, other tools that can also prove invaluable at this stage is heatmap analysis and tools like HotJar come with a freemium model to help you get started.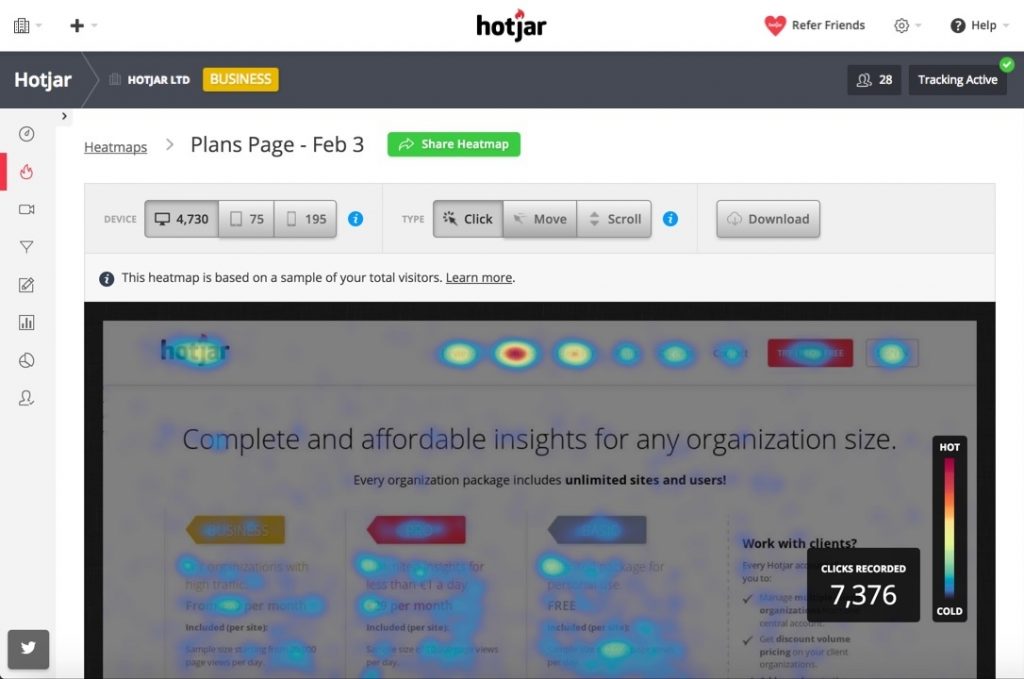 A Heatmap showing user behaviour on a website
Source: HotJar.com
Step 3 – Implement Changes
After the analysis part, comes the implementation of possible solutions. Based on your hypothesis, you can come up with solutions. Examples of solutions could include:
Adjusting the layout of your lead generation form or reducing the number of required fields that need to be completed on the form.
Once you've identified the solutions you would like to test, the next step is to create an alternative version of the page/content that you're wanting to test. Essentially you'll have one page that contains the original content i.e. the 'control', and a new version of the page which incorporates your proposed solutions i.e. the 'experiment'.
Step 4 – Test & Monitor
In order to test the performance of the 'control' page against the 'experiment' page you will need to use split-testing software such as Google Website Optimiser – a free website optimisation tool that makes it possible to test variations of pages/content alongside each other. This is known as 'split testing' or 'A/B testing'. Google Website Optimiser will control and monitor which page is displayed to each visitor to your website. It will also record which page delivered the most conversions and will continue to do so until a clear winner is identified.
4 Important CRO strategies for small businesses
Most small business owners will be able to increase their website's conversions just by following these tips:
– Blogpost optimization
Include lead flows on your blog ie CTAs that will interest users. These are high-converting pop-ups designed to attract attention and offer value. You can select from a slide-in box, drop-down banner or pop-up box, depending on your offer. HubSpot experimented with slide-in box on their blog and it achieved a 192% higher clickthrough rate than a regular CTA at the bottom of a blog post.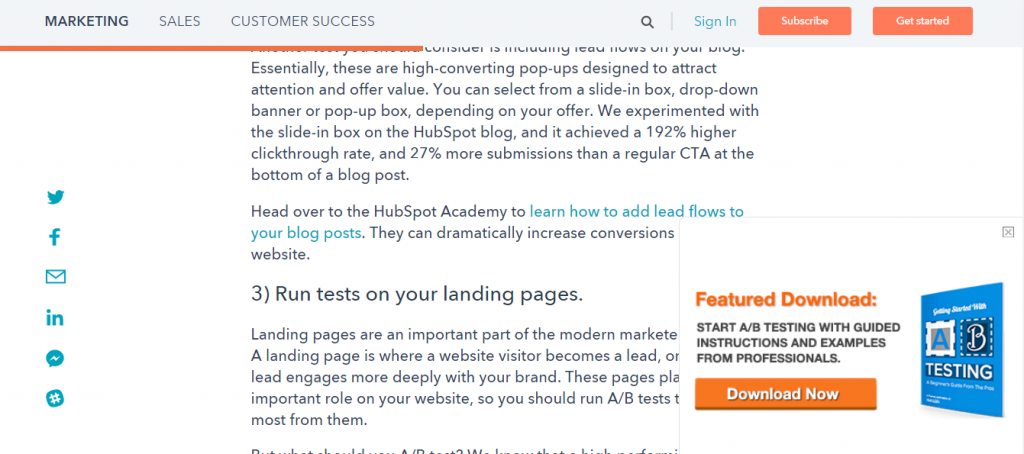 You must also optimize blog posts with high conversion rates. You want to drive more qualified website traffic to those posts and you can do that by optimizing the content for search engines or updating the content to ensure that it's fresh and relevant.
– Landing page A/B tests
Landing pages are an important part of the CRO implementation. A landing page is where a website visitor becomes a lead. These pages play an important role on your website, so you should run A/B tests to get the most from them.
Here is an example. SAP BusinessObjects replaced its original small blue text "add to cart" link with a large, orange button.

Original: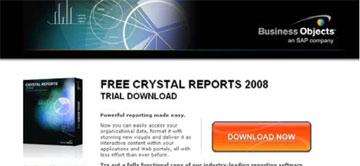 BusinessObjects made the call to action the most visually prominent element on the page. And conversions increased by 32%
– Making leads into qualified leads
It's easy to get leads by making certain changes on website but we need visitors to become MQLs? MQL stands for marketing qualified lead.
The key takeaway is to look for ways to remove friction from the sales process. So unless want your sales representative to waste time on all the people who filled a certain form on your website or clicked on a certain button, you want leads to be MQL.
The easiest way to do so is by putting chatbots on the website so that people can have their initial queries answered at the website only before moving further into the sales funnel.
Intuit Enterprise introduced chat in various spots on their website. Adding chat to the checkout process resulted in a 20% increase in conversions and a 43% increase in average order value.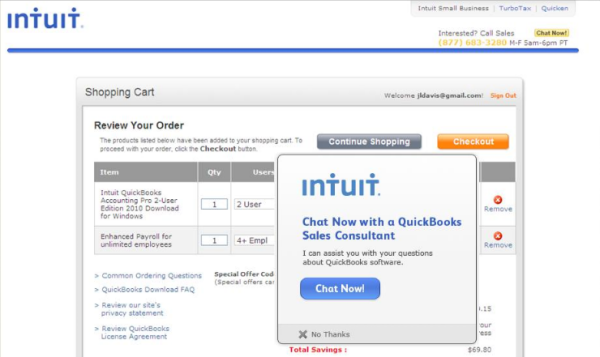 – Retargeting of website visitors
By leveraging retargeting, you can re-engage people who've left your website.
Retargeting works by tracking visitors to your website and serving them online ads as they visit other sites around the web. This has more chance of conversions when you retarget people who visit high-converting web pages.
For example, someone put in products in the cart but didn't place order or some user dropped off just before putting in billing information for your SaaS product, is a qualified user to be retargeted as it has high chance of conversion.
Here is how Mazda increased sales in their brick and mortar dealership stores through retargeting. They customized ads based on geographic radius to target people who are more likely to go to a specific Mazda dealership.
Secondly, they dynamically inserted the specific Mazda models the site visitor was interested in. This led to visitors who saw these ads converted 53% higher.
Everyone knows it's easier to convert people who have already landed on your website rather than complete strangers to your business. CRO helps in doing so. These were the "best practices" that worked for me. There are a lot of other things but ultimately you need to find out what works for your business and your customers.
—————–
Thomas Kriebernegg can look back on over 10 years of experience in Online Marketing and 5 years in App Marketing. He is an app enthusiast and the CEO at App Radar, an online App Store Optimization Tool that helps app developers understand and optimize their app store appearance.