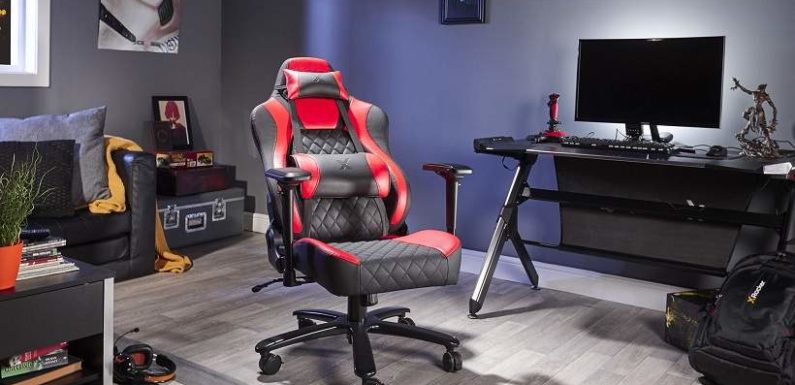 Gaming chairs are exceptional accessories in the gaming industry. They are a hip and cool way to enjoy PC gaming. With a gaming chair, you enjoy enhanced comfort, flexibility and a good posture throughout your gaming sessions. A gaming chair offers nothing but the best sitting position despite the long gaming hours.
The market today offers a wide range of gaming chairs to match the needs of every gamer. Whether you need a chair for PlayStation games or X box among other video games, you will always get a chair that guarantees you a fabulous experience at gamingchairs.com The question is does a gaming chair enhance your performance on a PC? Find out in this piece.
Two big ways in which a gaming chair can boost your performance:
Good posture.
Increased self-esteem.
Good posture
Posture plays a significant role in enhancing muscle efficiency, mobility, prevention of injuries and breathing. When it comes to PC gaming, you ought to have a good posture for enhanced performance. This is where a gaming chair comes in. it is specially designed to ensure your body and muscles are not worked up during play.
It is worth noting that video gaming is static. This means the normal functioning of the body is affected in a virtual environment. While the body can endure strain and small repetitive movements of the shoulders, arms, hands, and wrists, the muscles are extremely strained. The postural muscles are at risk of serious injuries when you sit down for long hours.
A gaming chair is a custom made to enhance the most natural sitting position. You will play with a neutral positioning of the spine and an open chest. This means your body will be at an optimal sitting capacity thus, allowing your muscles to function well. With a good gaming posture, your forearm, hand muscles, and the wrist will work efficiently to press the button on your mouse for enhanced gameplay.
With reduced movements and less strain, you enjoy prolonged gaming hours. This further allows for a good posture and less pressure on the stamina bar. Note that when you sit on an ordinary chair, you will need more stamina even on a single mouse click. As a result, you will deplete the stamina bar more quickly as opposed to when you are using a gaming chair. When this occurs, you strain body muscles and you suffer discomfort.
Once you are distracted, it becomes easy to lose focus on your game. This is quite common especially if you are an avid gamer and you engage in competitive gaming. A gaming chair is therefore designed to prevent such distractions. It allows for optimal physical sitting capacity and improved gaming experience.
A gaming chair also enhances your performance as it reduces impairment and promotes good cognitive functioning. This is achieved as a result of the physiological functioning of the body when you assume a good sitting position. Better posture maximizes the efficiency of the cardiopulmonary system. It allows for proper blood circulation. As a result, you enjoy pain-free gaming sessions and less distraction as in the case of someone who uses an ordinary chair.
With proper blood circulation, your legs won't feel numb and you enjoy open postures for the best gameplay. What's more, your breathing isn't interrupted even if you play for long hours.
Reduced stress levels
A gaming chair is also fitted with sound systems and other impressive features that relieve you of stress. You can listen to your favorite music as you play. It enhances your concentration on gaming matters at hand as opposed to what is stressing you. This is further connected to your cognitive functioning and improved self-esteem.
The gaming allows you to play with confidence because you can adjust it to fit your body needs. It doesn't matter whether you are heavyweight or lightweight. You can adjust the chair to match your height and weight. In general, the features of a gaming including;
An ergonomic design.
Adjustable armrests.
Recline features.
Sturdy design.
Comfortable head, neck, and backrest are tailor-made to give you a good posture for enhanced performance
The chair caters for the mid back posture, an aspect that is often neglected by gamers. You may have focused so much on your arms, shoulders, and spine while forgetting about the mid back. Its position plays a significant role in determining the health of your spine and back. It is the foundation that supports the positioning of the shoulders and the neck. When it comes to gaming, without the best neck, head and shoulder support, it becomes hard to concentrate on your games.
Therefore, a gaming chair features quality padding and cushioning for added support. It aims at giving you the most natural sitting position without subjecting your back to any form of injury. With a gaming chair, your neck, mid-back, and lower back enjoy a natural inward curvature for not only comfortable sitting but also more concentration and enhanced performance.
Self-esteem
The gaming chair minimizes the work of postural muscles. When you sit, you exert pressure on pelvic muscles. It is worth noting that the pelvis plays a crucial role in enhancing the health of your back and hips. For more confidence when playing your games, you ought to ensure the pelvis is functioning properly and in a neutral position.
If you tilt the pelvis forward, your lower back will start aching. If you tilt it back and it exerts pressure on your back. This means you will have to try different sitting positions to relieve yourself of pain in the midst of a gaming session. Why subject yourself to such pain and discomfort while you can use a gaming chair?
The whole idea behind a gaming chair's back support is to keep the pelvic bones in their rightful position. It keeps your back in a natural position for pain-free gaming sessions. You will enjoy better concentration for enhanced performance on a PC.
Last but not least, the gaming chair reduces stress on muscles, nerves, and tendons. It eliminates sad and rounded shoulders during gameplay while enhancing natural positioning of the shoulder blades.
In a nutshell, a gaming chair offers enhanced comfort, promotes good posture and allows for flexibility. These features help you to have better focus and control of your games for enhanced performance. Get yours today and reap the benefits of a gaming chair.