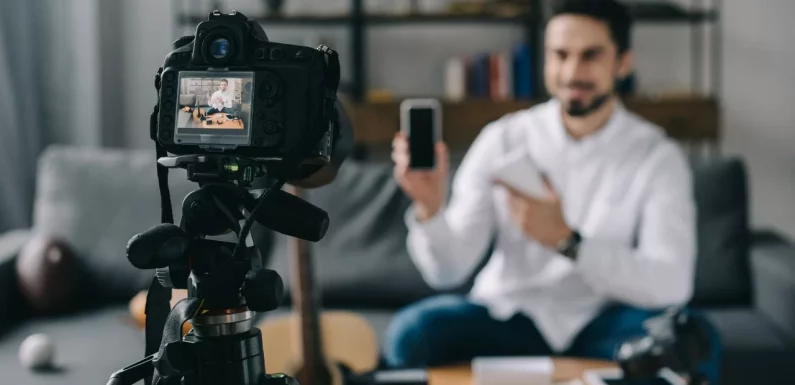 Reaching the million subscriber milestone on YouTube is a significant accomplishment for any content creator. It's a feat that many YouTubers strive for, and it can open up a world of possibilities. YouTubers who hit the million subscriber milestone gain recognition from their peers and benefit from increased exposure and potential monetization opportunities.
YouTube is the second largest search engine in the world, and its users watch over 5 billion videos daily. This means that reaching the million subscriber milestone can be a powerful tool for connecting with potential viewers and sponsors. But getting to this milestone isn't always easy, so we've put together a blueprint for achieving YouTube success.
This article will give you 6 steps to help you reach the million subscriber milestone.
6 Steps To Achieve A Million Subscribers On YouTube
Step 1: Establish Your Niche
If you want to achieve the million subscriber milestone, the first step is to establish your niche. A niche market segment caters to a specific need or demographic. Having a niche allows you to focus on creating content that appeals to a specific audience, which can help you to grow your YouTube channel more quickly.
Regarding YouTube, several popular niches exist, such as gaming, beauty, tech, lifestyle, and music. Analyzing the competition and trends is crucial to find the right niche for your channel. Look at the videos that get the most views and engagement from viewers. This can give you a better idea of the types of content that your target audience is interested in. You can also use YouTube's keyword research tool to understand better the topics that are most popular in your niche.
Once you've identified your niche, focusing your content around it is essential. While you can create content outside of your niche, it's important to remember that your target viewers are primarily interested in content related to your niche. This means they are more likely to watch and engage with videos within your niche.
It's also important to remember that having a niche doesn't mean that you have to limit yourself creatively. You can still create content that is interesting and engaging. The key is to focus on creating content relevant to your niche. This will help you build a more engaged and loyal audience that is likelier to watch your videos and subscribe to your channel.
In establishing your niche, it's essential to think about the types of content you want to create and the topics you are passionate about. This will ensure that you create content you enjoy and that your viewers are interested in watching. This will help you to stay motivated and inspired throughout the process, and it will also help you to stay focused on reaching your million subscriber milestone.
Step 2: Refining Your Content Strategy
Creating a successful YouTube channel requires more than just great content. Refining your content strategy to take your channel to the next level is essential. A consistent content creation schedule is essential to maintain viewer engagement and build a successful YouTube channel.
By planning your content ideas, you will be able to create videos that are timely and relevant. Additionally, it helps monitor your niche's competition and take advantage of trends. This will help you stay ahead of the game and level up your content.
Step 3: Optimizing Your Videos For Search
When it comes to achieving success on YouTube, optimizing your videos for search is essential. The way to do this is to come up with creative titles and descriptions that include relevant keywords, as well as using tags and closed captions.
When creating a title for your video, include relevant keywords that people will likely search for. Additionally, try to make it as catchy as possible to draw viewers in. The same goes for the description: include as many relevant keywords as you can while keeping it exciting and informative.
When using tags, make sure to use as many as possible that are relevant to your content. Additionally, try to include tags that are not widely used and have lower competition, which can help your video stand out.
Closed captions are also a great way to optimize your videos for search. Not only is it beneficial for viewers with hearing impairments, but YouTube also uses closed captions as a ranking factor. To ensure your closed captions are SEO-friendly, include relevant keywords and use proper punctuation.
If you want your videos to rank well on YouTube, performing keyword research is essential. You can use the YouTube search bar to see what terms people are searching for and create content targeting those keywords. Additionally, you can use free online tools such as Ubersuggest to get better insights into relevant keywords.
By optimizing your videos for search, you can make sure that more people see your content and have the potential to reach the million subscriber milestone. So take the time to do your keyword research and properly optimize your videos.
Step 4: Develop An Engaging Channel Theme
Establishing an engaging channel theme is critical to success on YouTube. Selecting a theme that resonates with your target audience can make your channel stand out and help you reach million subscribers on YouTube. It's essential to consider factors such as the interests of your target audience, the existing trends, and the topics most discussed in your niche.
When creating your channel theme, it's essential to keep it consistent. This can be done by creating compelling channel branding and staying on top of existing trends and topics. Additionally, social media can be a great way to interact with your viewers and create a community of subscribers. Leverage your social networks to build a network of collaborators and foster relationships with your viewers.
Step 5: Grow Your Channel
Growing your channel and reaching the million subscriber milestone is no easy feat – it takes dedication and hard work. To increase your chances of success, you must develop relationships with your viewers, create a community of subscribers, and build a network of collaborators.
# Developing Relationships With Your Viewers
Creating meaningful relationships with your viewers is essential for growing your channel. Take the time to get to know your subscribers and show them your appreciation by addressing their feedback and responding to comments. You can also set up Q&A sessions with your audience and offer exclusive content for your most loyal viewers.
# Creating A Community Of Subscribers
Creating a sense of community on your channel is a great way to increase YouTube viewers engagement and make your channel more attractive to potential subscribers. Take the time to build a positive environment for your viewers to feel a sense of belonging and connection with your channel.
# Building A Network Of Collaborators
Collaborations are an effective way to increase brand awareness and exposure for your channel. Connect with other content creators in your niche and reach out to those with a similar audience. This can help increase your reach and open opportunities for cross-promotion and joint projects.
Engaging in cross-promotion is also beneficial for your channel. Research potential collaborators and develop solid partnership agreements that work for both parties. This can help bring in more viewers and new subscribers to your channel.
Additionally, consider partnering with influencers with a large niche following. Influencers can help you promote your channel and introduce your content to a wider audience.
Finally, consider contacting brands and advertisers interested in collaborating with content creators. This can open up new opportunities for monetizing your channel and help you reach the million subscriber milestone.
Growth and success on YouTube require a lot of hard work and dedication, but with the right strategies, you can reach the million subscriber milestone and start reaping the rewards of your efforts.
Step 6: Analyze And Adjust
Analyzing data and information is critical to any successful YouTube channel. Analyzing viewership metrics will help you understand how your content is performing and pinpoint areas for improvement. This can include data on views, watch time, likes, comments, and more. You can also use analytics to gain insights into your audience demographics and the topics that resonate with them.
Once you have identified areas for improvement, you can adjust your content strategy accordingly. This may include creating a more consistent content schedule, creating content around more popular topics, optimizing your videos for search, or making any other adjustments based on the results of your analysis. Understanding the power of analytics can help you make more informed decisions and optimize your content for success.
Conclusion
Reaching a million subscribers milestone is ambitious but achievable with the correct blueprint. This article outlined six steps to help you reach the million subscriber milestone, from establishing a niche and refining your content strategy to optimizing your videos for search, developing an engaging channel theme, growing your channel, and analyzing and adjusting.
These steps are essential for achieving success on YouTube and will help you confidently reach the million subscriber milestone. By following this blueprint and leveraging the power of analytics, you can reach greater heights on YouTube and enjoy the many benefits of success, including increased visibility, more significant viewership, and a stronger community of loyal viewers.