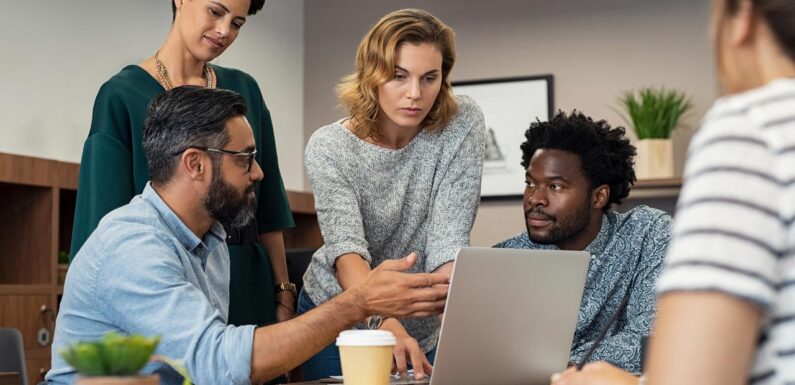 The eCommerce market is heterogeneous- Consisting of two primary marketing models- B2B and B2C. However, it will be a mistake from the marketer's perspective to believe if the sales strategies for both industries are the same- since the ultimate goal is to sell something. In particular, different services demand different selling methodologies.
B2B (Business to Business) is the situation where commercial transactions happen between two businesses. These eCommerce transactions can be between manufacturers, retailers, and wholesalers of products and services. B2B transactions take place when organizations require products for their processing or output units.
B2C (Business to Consumer) is the situation when businesses work undeviatingly with consumers. B2C transactions will always have the end-users purchasing the product for their personal requirements.
Customers-
The type of customers which both the marketing strategies focus on makes a crucial difference. The difference between B2B and B2C customers-
B2B eCommerce sites focus on big organizations and businesses that possess goods in bulk and sell them to end-users. Unlike B2C marketing, B2B selling involves decision-making processes and includes more than one party at the negotiation end. This involves managers, sellers, brokers, and decision-makers. Multiple people involved in the purchasing signifies extended negotiations and personalization right from the initial point of contact and rational, unemotional business decisions till your site visitors transform into paying customers.
B2C customers are single buyers and B2C sites can directly sell to individual customers who are looking for specific products. B2C selling promotes impulse buying since customers often make purchase decisions based on emotional and momentary influences. Thus B2C selling doesn't necessarily require following a very strict marketing approach, however, they need to ensure careful marketing, following a distinct direction, and carefully studying the consumer buying patterns.
B2B and B2C customers come from very different buying intentions and therefore require different selling methods. However, understanding your consumers and their requirements is pivotal for both situations to tailor your eCommerce services properly.
Customer Life Cycle-
Customer life cycles in B2B eCommerce are much longer than in B2C eCommerce. B2C customers might make a purchase and then never return to that online store. Unless there's a compelling reason to return, they are most likely to not make another purchase from that same store as they always look for better alternatives every now and then.
Contrarily, B2B buyers believe in establishing long-term business relationships, thus if B2B sellers are successful in building mutual trust, this can help in working together for years to come.
Think of it like this-
A B2C eCommerce business has to sell 10 million products at $10 each to become a $100 million business, but a B2B business may only need to sell 1000 products worth $100,000 each to become a $100 million business! For these reasons, customer acquisition takes a lot longer in the world of B2B eCommerce.
Products
The products these two marketing industries sell become a huge segment of distinction.
B2B eCommerce sites deal with work-oriented or business-specific products for enterprises like types of machinery, employee or staff uniforms, office furniture. B2B sellers expertise and center upon a niche and aim to satisfy all requirements of buyers specific to that niche.
One another important feature of B2B sellers and websites is that they sell in Bulk orders since buyers often require goods in huge quantities.
B2C eCommerce sites on the other hand focus on delivering and catering to all customer needs. Amazon is one of the best examples of a B2C site, It serves almost every product required for human existence from toothbrushes to tv sets.
B2C is least or not likely to sell in bulk orders, with usually customers making single or small purchases only.
Design and Marketing Approach-
B2B websites don't focus much on making impressive designs, instead, the focus is more on generating leads. Therefore their aim is to acquire contact information from the website visitors- so that they establish contact or reach out to them at an appropriate time. Since B2B transactions include complex and huge pricing which cannot be availed for all customers thus negotiations are a common ritual before both parties can settle happily. The marketing strategy emphasizes building long-term relationships and aftercare.
The B2C market is huge which requires B2C sellers to make their own identity to sustain the dynamic competitive environment. The website should be personalized according to consumer requirements and captivating to attract more customers to visit your online store. B2C sellers should center their promotional activities towards alternative marketing channels which have higher user engagement like Facebook, Instagram, etc.
Difference in CTAs
What does the thumb rule of marketing say?- Say exactly what your consumers want to hear, i.e highlighting the product benefits for your customers.
B2B businesses prefer buying products from specialists who can comprehend their specifications and methods and also follow the changing decision curves during the purchase process. Thus, to get to your target B2B audience, speak their language!
The decision-maker at the end is buying your services to revamp and enhance the all-over business performance. This requires them to put personal emotions aside and evaluate both beneficial and non-beneficial aspects of the purchase.
Example- If you are selling office work-desks. Your B2B CTA example can be-
"Comfortable work-desks to boost your employee productivity."
For the B2C eCommerce website, the actionable CTA should focus on conveying how the product would benefit the individual customer. They need to focus on resonating with their customers and finding the CTA language that entices customers to make the action. More simple language without confusing or heavy words might make the customer second thought the decision and turn away. The CTA can be-
Design your home with specially customized work desks for you!
The buyer willing to buy the work-desk wants to enjoy the outcome, and thus the copy should evoke emotions of enjoyment.
However, the common thing that binds B2B and B2C businesses here is that the actionable content should be human-centred, i.e., should carry an emotional connection.
The Checkout Process
So, this is the last step of your customer's buying process, making a massive difference for you to put the right card forward to have your customer take the desired action.
With your B2C website, your consumer's journey should be straightforward and smoothly navigated towards the shopping cart, payment gateway, and mandatory acknowledgements.
Some essential B2C checkout elements to include:
Possibility to add or delete the product quantity from the cart.
Reduce the checkout steps.
The final CTA and "apply coupon" buttons should be prominent and easy to find to avoid abandonment issues.
Include all flexible payment options.
Features like multiple orders, specified payment, and delivery options can make your B2B checkout process complex. However, there are ways to fix that- Chatbots and usual online confirmation acknowledgments might not suffice; thus, human assistance is necessary here. Live interaction and direct communication with the sales team are essential to clear any standing confusion. This live human intervention will establish trust within your business customers to work with you and form long-term business relationships.
Long-term business relationships mean repeating the orders. Thus having an individual account with primary saved details will provide a smooth user experience helping in retaining customers for a long time.
Significant elements that lay down the difference between B2B and B2C should include:
One-click reordering system.
Flexible payment options like pay on credit, ACH payments, procurement punchouts.
Video chats, Phone calls, Live demos should be an active part of the checkout process.
Differences between B2B and B2C eCommerce Website
| Parameters | B2B Business | B2C business |
| --- | --- | --- |
| Customers | Decision-making units | Single-buyers |
| Customer Life Cycle | Long-term | Short term |
| Products | Specific Products & Bulk orders | Consumer goods and small orders |
| Design & Marketing Approach | Content is more important | A personalized and catchy design is more important. |
| Difference in CTAs | Business-centric (how the product will benefit the whole the business) | User-centric (how the product will benefit the individual) |
| The Checkout Process | Complicated | Simple |
Wrapping it up-
Not just a single feature; instead, all the above features simultaneously build up the difference between B2B and B2C marketing approaches.
Understanding the above differences is imperative for retailers aiming to deliver excellent digital and user experiences for their online customers and fit their requirements.
Your customized eCommerce design elements will help your customers relate with you and eventually establish mutual trust.