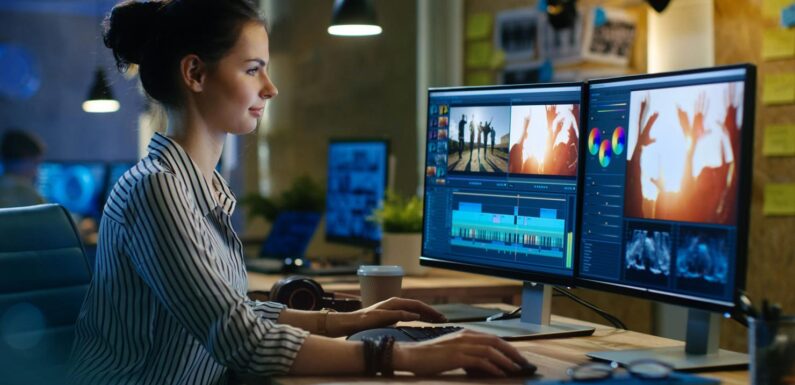 Buying a monitor is not as simple as walking into a shop and leaving with a package. There are certain critical factors to consider. It helps to keep in mind the use of the monitor. Are you a gamer? Do you want to just view, edit photos, or just read text? Understanding the different specs and their impact is essential.
We will show you 7 simple ways to choose the best monitors:
Let's dive into the topic.
#1 Understand the Purpose of Your Monitor
Different monitors offer different features.  As we have already stated above, It is crucial to know what you intend to use it for. Gamers, for example, will want high refresh rates. Graphic designers and other creatives need high resolution for better clarity. In this case, 5K monitors may be the best option for them.  
#2 Know the Different Types of Monitors
Walk into any computer shop, and the range of monitors can be intimidating. You get different technologies such as liquid crystal display (LCD) monitors that offer very high-quality pictures.
You may also still find some CRT monitors that are pretty low cost. The reason is that the technology is old and no longer applicable in most places. While you get the benefit of low pricing, the quality of the pictures is poor. You also need more desktop space because of the size and weight.
You have two options with the standard LCD and LED monitors.
Twisted nematic (TN) is the most common and has some fantastic features. Response and refresh rates as fast. They may, however, not have the best color reproduction capabilities. They are, therefore, ideal for gamers and average users.
Vertical alignment (VA) has the best color reproduction, making them ideal for creatives and other professionals. Please do note, though, they may be a bit more expensive.
Other types are:-
In-plane switching (IPS) has better contrast and color reproduction. Some of the monitors may, however, have a slow response time.
3D 120/144 Hz monitors are ideal for those who use 2D and 3D images. You must, however, purchase a compatible graphics card.
#3 Yes, Size Does Matter
Think about your TV screen. The bigger, the better the viewing pleasure. However, it doesn't mean that a smaller screen size will not allow you to watch your favorite movie. Before shopping, look at the workspace you have by measuring the height and width. Also, take into consideration any other items you may have, such as documents. If you have sufficient space, you can go for a large monitor.
If you use your monitor for typical applications like browsing the internet or doing office work, a 20-inch screen is sufficient.
21 to 26 inches is ideal for multi-purpose use. Such include watching movies, playing games, or creating documents.
27 inches and above will work well for creatives, architects, graphic designers, and video production. The display is large enough for use in larger projects.
Many monitors have an aspect ratio of 16:9. You may also find ultra-wide or curved monitors with a ratio of 21:9. The latter is ideal for those who use multiple windows or programs. Gamers may also gravitate towards touch screens.
#4 Look at the Screen Resolution
A screen image consists of pixels or picture elements. The more the pixels, the greater the details. You have the option of different resolutions:-
1920 x1080 or full HD, which gives crystal clear picture quality. It will make your video and movie-watching experience more pleasurable.
2560 x 1440 or Quad HD are the best for graphic design, video editing, and CAD. The pixel density is very high, resulting in excellent clarity of images.
3840 x 2160 or 4K ultra HD is the best you will get in terms of resolution. It is ideal for professional use, gaming, and watching movies.
#5 Check the Available Connections
Your best option is to go for a monitor with multiple inputs and output options. They include USB ports, HDMI, Mini display, DVI, and VGA. The feature gives you more flexibility with the connections you can make on the monitor.
#6 Go For a High Refresh Rate and Short Response Time
The higher the refresh rate, the better. What it means is the amount of time it takes the monitor to update new information per second. If you notice signs of double images, flickering, or shadowing, it is indicative of a slow refresh rate.
For a gaming monitor, go for those with a refresh rate of 75 Hz and above. For everyday applications, 60 Hz is sufficient.
For response time, the shorter, the better. This is how long the monitor takes to change individual pixels from black to white and back to black. The same applies to changing grays from one shade to another.
It can impact the quality of pictures if you're watching movies or gaming. You tend to notice blurry images or ghosting. Some of the fastest monitors have a response time of 0.5 ms.
#7 Additional Features to Look Out for
Have the following in mind when shopping for a monitor.
An ergonomic design that allows for optimal viewing. It should, for example, be adjustable so that you can customize it as you wish
The screen finish can have an impact on the picture quality. You have two options; gloss or matte. The former gives better contrast and more vivid images. However, they are not very comfortable in bright light settings due to the reflective coating. Matte screens have an anti-glare coating. But, you lose out on the vibrancy of some of the images.
It should have controls. They allow you to adjust or fine-tune some of the settings. Such include horizontal and vertical alignment, brightness and contrast
In-built speakers so that you do not have to look for a separate one
Cable management so that everything remains neat
Features like anti-glare, anti-flicker, and other technologies for eye comfort. This reduces fatigue, especially if you have to use the computer for a long time.
Final Thoughts
We have shared with you seven critical things to consider when shopping for a monitor. We must also emphasize that it helps to read customer reviews. They are an honest representation of what you will be getting when you buy the product.