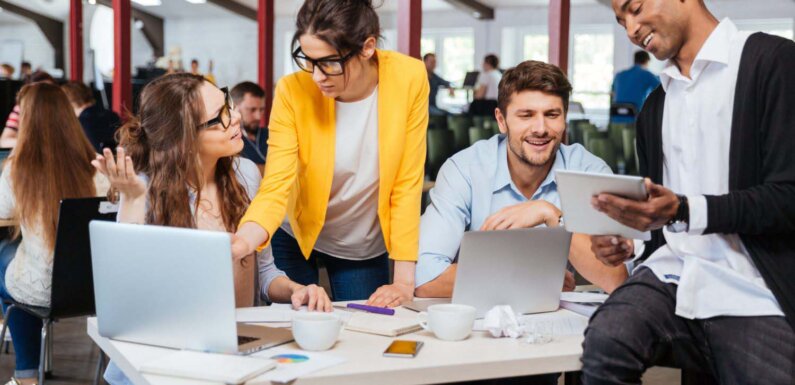 Your website's design is like your business card. Especially for insurance companies, your website should inspire confidence and trust. When a user lands on your homepage, they should understand what you're selling and if it's what they're looking for.
Therefore, before looking to more advanced design elements for your website, let's go through the ones that can be considered mandatory. Components like descriptions of services, social media links, testimonials, contact forms, or even a blog, are things that your users expect to find. This gives them confidence that they're in the right place.
Your website shouldn't be complicated and your message should come through clearly. You could choose a complex design, thinking it would impress your audience, but does that help your agency or your users?
Let's analyze together some elements that anyone would expect to find on any kind of website. Having those will ensure that your message gets across and that people will take interest in your services and get in contact with you.
Services Landing Pages
When you offer something to your users you need to explain exactly what they're going to obtain for their money. Because people are bombarded with information every day, you should focus on ways to stand out from the crowd.
Why should people choose your services over others?
What do they get for their money?
How do your products help their buyers?
These are just a couple of questions that you should answer when writing the descriptions of your services. If you write your content with your users in mind, you'll be set up for success.
As for the design of these landing pages, there are a few things to keep in mind here too. Most people browse websites on their smartphones. This means that if your pages aren't mobile-friendly, people will simply move on to the next website that is.
Additionally, your best bet is to keep a minimal and modern design. Crowding your page with too many design elements and too much content will make your users feel overwhelmed. In today's world, speed is everything. People want to find what they're looking for easy and fast.
Professional Photos
This one should be a no-brainer. The photos you use should reflect professionalism and personality. Therefore, the higher the quality, the better.
An important thing here is to avoid using obvious stock photos. Try to make everything personal. The photos on your website should be of your staff, clients, or anything related to your activity. This helps your audience get to know you a little and humanizes your business.
Remember that, especially for insurance agencies, establishing a relationship based on trust with your customers is of utmost importance. Therefore, you should only include photographs that are taken professionally and that include your agency and its staff.
Blog Posts
Why should an insurance agency have a blog? Mainly, to connect with its users. Articles are a great way to give advice to your audience and try to educate them about who you are and what you do.
Additionally, your blog is a great place to go into detail about your company, its history, but also your services. You can explain to your audience how they could benefit from what you have to offer and why that is the best choice for them.
Of course, you shouldn't disregard the fact that having a blog can help you rank higher on the search pages. This, in turn, translates to more people viewing your website and more possible customers.
Other benefits to this include more exposure and improving your site's ranking through backlinks. If you can create amazing blog posts, the chances of sites linking back to them are high as they will find it as a useful resource for their own blogs. Alternatively, you can step up your game using a blogger outreach program. This method involves bloggers guest posting on other sites while they include your agency's blog posts or brand in their articles.
You could even invite fellow insurance agencies to post articles on your blog. This can help you create relationships with other companies. You open up to a new audience and a whole world of collaboration possibilities.
Social Media Links
These days, everyone is at least on one social media platform. And you should be where your audience is. However, don't rely on the fact that if someone is interested in you, they will look you up. You should give your users as many possibilities to get in contact with you as you can.
Therefore, it should be mandatory to have social media links on your webpage—in a visible, accessible place. The most common choice for placing these links is in the footer. This happens because each user expects to find the most important links there — from FAQs to service pages, contact forms, and social media links.
Additionally, try to think of where your audience would be. You don't need to have an account for every social media platform there is, it would be counterproductive. Aim for those that are the most popular—like Facebook or Instagram, or for less popular ones, but where you know your most common users spend their time.
Testimonials
People are more inclined to trust what other people that have done business with you say about your agency, rather than what you say about your services. This is where testimonials have something to say.
Just think about it—when you choose a restaurant, what's the first thing you check, after the menu? Their reviews. You want to know if people liked the food, if they enjoyed the atmosphere, and so forth.
This exact principle applies to any kind of business—and not only. Let's take a nonprofit website design. Most nonprofits won't limit themselves to just saying how they help the community. They go further and show you how they make a difference, through the perspective of the people involved. And this leads to you trusting that nonprofit.
This applies to insurance agencies as well. On your services landing pages, or even on your homepage, you should have a section dedicated to client testimonials. Be careful though, because these should be original and true. If your users pick up that you have paid for those testimonials or if they are fake in any way, they won't be able to trust you.
Contact Form
You have your email address in your footer. That should be enough, right? Well, not for most people. As we mentioned earlier in this article, convenience is very important to everyone. Therefore, unless the user is 100% decided on buying your product, they won't look for your email or go through the effort of writing an entire email to you.
However, here's where the contact form can help. Say a user is undecided and would need more information about your services or your agency. It's more likely that they will be willing to fill out a simple form—especially if you offer to contact them back about their issue.
Along with this contact form, you should think about carefully placing some call-to-action buttons that should lead to it. Think about offering the possibility of scheduling a 30 minutes call with you or a brief visit to the agency. This will help most people make the first step and make use of the contact form you make available on your website.
Take Away
When you saw "design elements" in the title you probably thought about ways of adding more pizzazz to your website to make it more appealing. However, sometimes, as that saying goes, less is more. Your website should cleverly showcase your services and make it easier for your users to contact you.
As an insurance agency, your best bet is to keep it simple. Offering these common elements that everybody expects to find on any website will most likely be more efficient than having a complex design that might overwhelm your users.