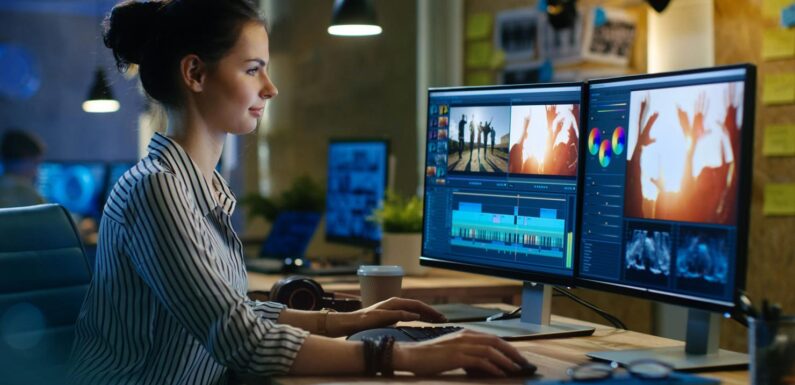 The article separated five online video editors to find the favorite for your personal or professional projects. It's worth pointing out that they don't bring the same power as installed software, but it can help.
There are some facilities in using a browser editor. If the website in question has an application, you can continue editing on other devices, and, of course, they don't take up space on your computer. Check out our selection now.
Clipchamp
The Clipchamp is a video editor online quite complete. Its interface is very accessible for beginners and makes its life easier by allowing direct connection to Google Drive, Outlook, Dropbox, and even Zoom. You need to use the video in a presentation.
Another exciting feature is that the user can record through his own camera and send the recording directly to the website, avoiding the process of saving to the computer and then uploading.
Some pre-defined templates help in the editing process, such as Gaming and Instagram, and it is possible to export in different proportions of such. It is still possible to export without a watermark in resolution up to 480p in the free version.
Wave.video
Another site that allows free online editing is Wave.video. It does not have a native translation into Portuguese, but its interface is quite simple. Before starting a new project, you can choose presets, depending on the project you're going to carry out or start a completely new one.
Several tutorials help the user perform various tasks on the site and tips on types of content for social networks for users who are in doubt about the best audiovisual language to use.
The free version has a limit of 10 GB in the free version and more than 20 thousand images and videos for users to use freely during their edits.
InVideo
InVideo is an online editor a little more complex than the others, being more suitable for those who are already familiar with editing. On the other hand, the platform offers many interesting options so that users can carry out their projects with great professionalism.
The organization of files on this site is above the others on the list, and you can split them into folders, so you don't get lost if you're working on multiple projects.
In its free version, it is possible to use images and music from the platform, but the paid version gives access to images from the Bing and iStock library, in addition to removing the watermark from the site, making this an excellent option for users.
Wideo
Another very accessible editor for users with little experience in editing, Wideo has an attractive user interface and some control over the desktop, being able to close side windows or place a grid to edit the video with greater precision.
It is possible to use a private bank on the site with free sounds, videos, and images and export in different formats to YouTube, Facebook or HubSpot. There are also presets for Twitter and Instagram if you are looking to invest in content for these social networks.
The platform has some tutorials to improve your editing skills and a blog with tips on social media to complement your study.
FlexClip
We ended the list with FlexClip, a great platform for short videos, especially from social networks like Instagram or Twitter. The free version allows you to edit videos of up to one minute and export in 480p.
The platform is easy to use, having many configurations to bring your audiovisual projects to life. The website allows control of the watermark for users who wish to keep the free version, decreasing its opacity and position in the project.
Among the main features are the ability to record your camera and upload the video directly to the project, perform transitions, overlays, and insert sounds with a click or two thanks to a very easy-to-use and well-organized workspace.
With different features and difficulty levels, these online video editors can help users carry out their projects and have free trial versions before choosing the one that best suits their needs.